The terrorist attack that took place in the St. Petersburg metro in April 2017 was planned on the territory of Syria, controlled by "opposition" gangs. This was reported by the online edition.
"Lenta.ru"
with reference to the official representative of the Investigative Committee of Russia Svetlana Petrenko.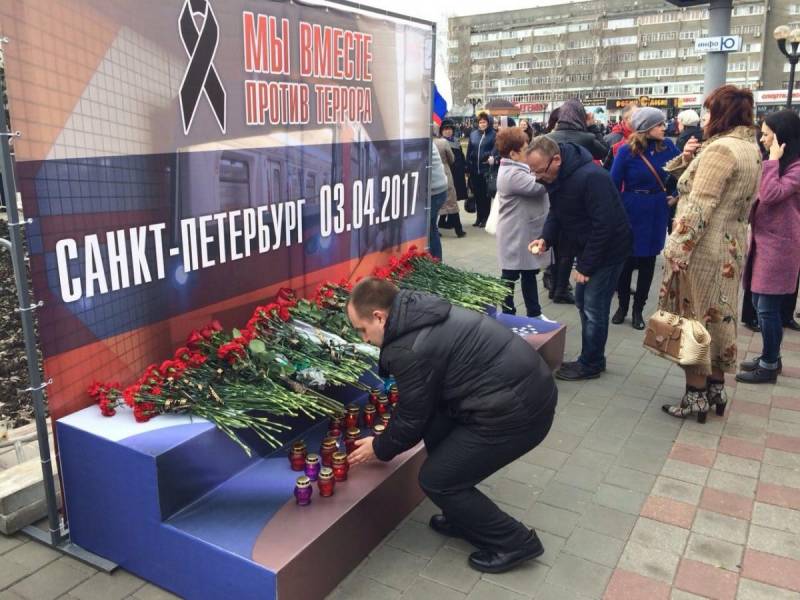 It is reported that a terrorist group was created in Syria, led by a native of Kyrgyzstan Sirojiddin Mukhtarov (also known as Abu Salah al-Uzbeki). This organization planned to carry out a number of terrorist attacks, including on Russian territory.
The community of Mukhtarov aimed at carrying out terrorist activities, including against Russia and its citizens. The terrorists chose the metro of St. Petersburg as one of the targets for attacks.
- Petrenko told reporters of the resource.
Islamists manufactured three improvised explosive devices. Two of them were made personally by suicide bomber Abkarjon Jalilov.
The explosion rang out in the St. Petersburg metro on April 3, 2017 in a train that was between the stations "Sennaya Ploshchad" and "
Technological
Institute — 1. " An explosive device detonated Jalilov. As a result of the crime, in addition to the suicide bomber, 15 people died, 89 were injured.
Another bomb was found on the same day at the Uprising Square metro station. Fortunately, it did not work. According to the investigation, Jalilov planned to blow it up using remote control.
The third explosive device fell into the hands of the terrorists Muhammad-Yusuf Ermatov and his brother Ibrahim, who were planning to carry out another attack. However, the attackers were neutralized in time by law enforcement agencies.
Petrenko also said that a unique investigative experiment was conducted during the investigation of a criminal case instituted into an explosion in the metro of St. Petersburg. The defense claimed that some of the defendants could not know about the manufacture of bombs in the apartment where they lived. During the experiment, an explosive device model was made in this apartment. It turned out that the tenants could not help but notice this. In total, 11 people are involved in this criminal case.