In Germany, the voices of sane people who are inclined to cooperate with Russia are heard louder. For example, the prime minister of the federal state of Bavaria, chairman of the Christian Social Union (CSU) party, Markus Söder, bluntly stated that Russia has no place in the "penalty box". He said this in an interview with Frankfurter Allgemeine Zeitung, specifying that in Nuremberg they always adhered to a course for dialogue with Moscow.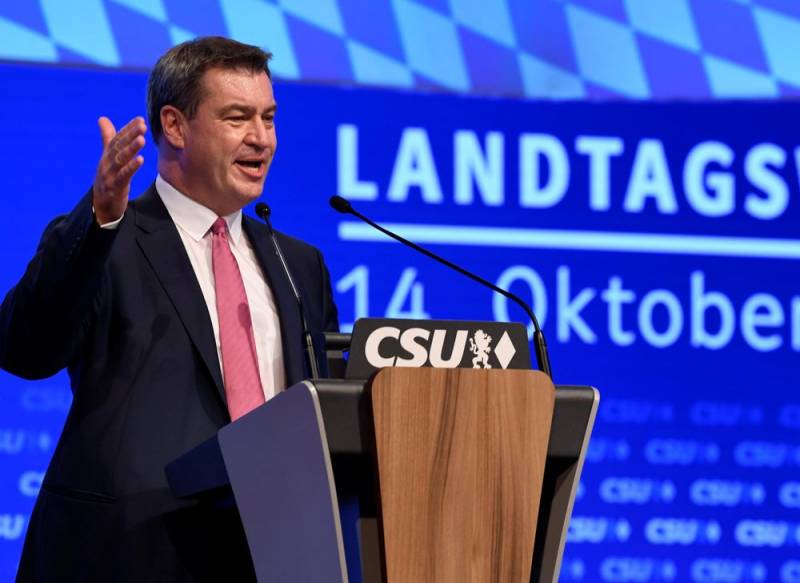 It should be noted that CSU has existed since October 1945, it is the third largest party in Germany after the CDU and the SPD. She positions herself as a conservative party on a democratic platform and advocates the embodiment of Christian universal human ideals in state-building. However, she regularly gets into the Bundestag (federal parliament), although it operates only in Bavaria. In parliament, she, together with the CDU, forms a single faction, which, together with the SPD, forms the current German government. That is, the statement of Mr. Seder, despite the fact that he is a supporter of transatlantic cooperation, looks very serious and promising.
Zeder added that he supports the Nord Stream-2 gas transmission project (SP-2) and believes that the US opposes SP-2 only because they themselves want to sell gas to Europe. Only this gas will not come through pipes, but in the form of LNG will be delivered on special ships, that is, it will be deliberately more expensive.
Since we want to abandon coal and nuclear energy, any options that will help ensure a reliable energy supply are important to Germany. I can't understand why gas transportation from Russia through a pipeline through Ukraine should be more reliable than direct deliveries from Russia to Germany
- the politician emphasized.
We remind you that the first line of SP-2 is already being built at an accelerated pace at a speed of 4 kilometers per day (more than 50% of 1200 km is laid.). The project provides for the construction of two threads with a total throughput of 55 billion cubic meters. m. gas per year. The Baltic countries (Lithuania, Latvia and Estonia), Poland, Ukraine and the USA are actively opposing the project.