The election tour of the still acting President of Ukraine Petro Poroshenko in the United States, many in Kiev have dubbed the "farewell tour of the leader of the nation." Poroshenko was clearly embarrassed by the half-empty hall of the General Assembly at the UN headquarters, where he talked about the "aggression" of Russia to representatives of some countries in Africa, Asia and Latin America.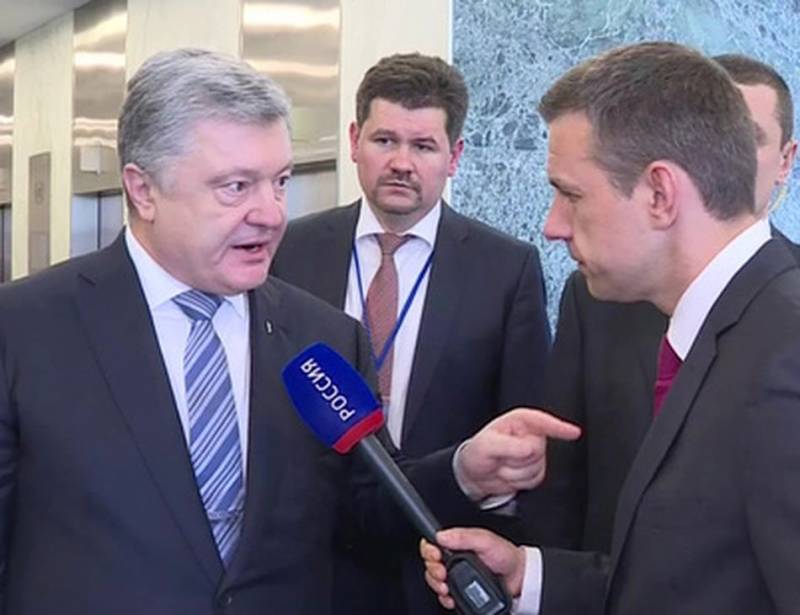 Poroshenko sincerely, but without foundation, hoped for a meeting with US President Donald Trump. The Ukrainian "guarantor" really wanted Trump to shake his hand and throw a couple of phrases on the camera, so that Poroshenko could demonstrate to the Ukrainian "patriots" that Washington was betting on him in the election race in Ukraine. However, the meeting did not take place, Trump did not even plan it.
This, incidentally, is easily explainable, since Washington has been very politely hinting to Kiev since 2016 that the Ukrainian ambassador to the United States, Valery Chalom, "has to go home". Trump is not vindictive, he just has a good memory. He perfectly remembers how Chaly participated in the campaign for Hillary Clinton and obtained incriminating evidence against him. The owner of the White House is still fighting off attacks by prosecutors and his rivals, all thanks to Ukrainian "comrades."
Poroshenko was clearly upset. Nor did the visit to the UN Secretary General Antoni Gutteres cheer up to him, to whom he touchingly handed over the collected signatures with a request for assistance in the release of the crews of Ukrainian ships. They "languish in the dungeons of Mordor" after the incident in the Kerch Strait on November 25, 2018. And Poroshenko decided to play the role of "leader-patriot" to the end, otherwise he won't get additional votes in the elections.
Therefore, when Poroshenko went down from the office of the Secretary General from the 38th floor in an elevator to the security ring and saw Russian journalists asking him unpleasant questions in the lobby, he was rude to them. Journalists were interested in the fate of their Ukrainian counterpart, Cyril Vyshinsky, who, on far-fetched grounds, was sent to jail by the Kiev authorities. And Poroshenko knows Vyshinsky personally. However, Ukrainian "patriotism", like the re-election of a "guarantor," require victims.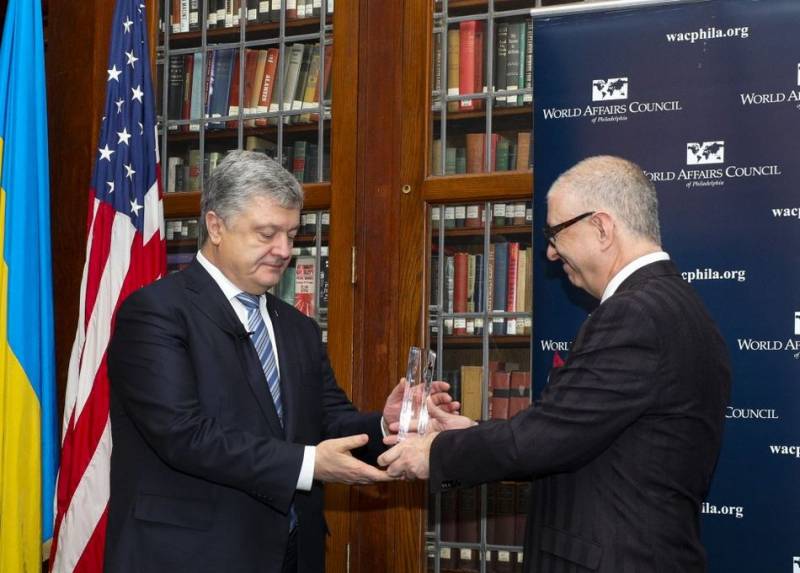 The final part of Poroshenko's trip to the United States was a visit to Philadelphia, where on February 21, 2019, the "guarantor" received the "statesman 2019" award at the local council on international affairs. Many have already regarded this as sending Poroshenko to
political
retirement.