On February 20, 2019, the Austrian Chancellor Sebastian Kurtz and U.S. President Donald Trump met in the White House (Washington). Kurtz spoke about the outcome of the talks in an interview with ORF.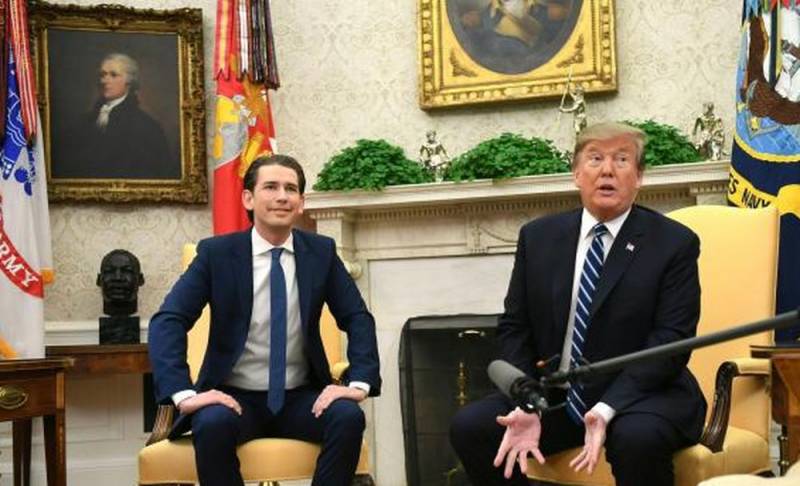 It should be noted that the main topic of communication between the two leaders, it is not difficult to guess, was "Nord Stream - 2" (SP-2). Austria and the United States have a diametrically different attitude towards this important gas transportation project, which, however, is not surprising.
The Chancellor said that communication with trump turned out to be "very controversial." After all, the United States does not hide that they are opponents of the SP-2 project, and Trump immediately reminded Kurtz about this. To which the chancellor replied that the Austrian authorities "already know this." In turn, Kurtz did not hide the fact that Vienna is a supporter of the SP-2 project and is interested in Russian gas. She would be glad to buy American gas, but it is much more expensive than Russian. In addition, Austria will facilitate the implementation of the SP-2 project for another reason. She is interested in the elementary reliability of energy supply.
I think he, as a former businessman, can understand, here we just have different interests
- summed up the chancellor.
To understand Kurtz is not difficult. He directly told the Americans that buying expensive LNG from the United States is an elementary violation of market logic. Capitalism reigns on the planet and is ruled by the "arm of the market." As for the reliability of supplies, the "pipe" is, by definition, more reliable than the fleet of LNG tankers in the stormy ocean. Moreover, after receiving LNG, it is also necessary to regasify (make it gaseous again), and only then launch it into the gas transmission system.
So it is not surprising that Kurtz, as indeed the whole of Austria, supports the SP-2 and looks forward to the completion of construction and commissioning. Well, and the US reaction to such "impudence", we will soon find out, there is no doubt about it.