Recently we
Reported
, as US President's National Security Advisor, John Bolton, described secret negotiations between Venezuelan generals and impostor Juan Guaido. And now, already allegedly five soldiers of the Venezuelan army, from a sniper unit, sent a video message against the "regime" of the legitimate president of Venezuela, Nicolas Maduro.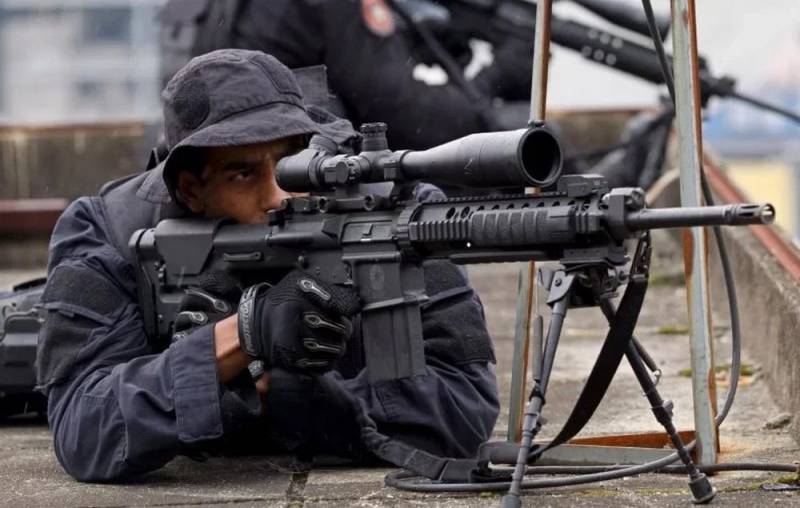 It is reported by the Colombian television channel Noticias Caracol. He is very actively "worried" for a neighboring country, which 190 years ago was part of Greater Columbia, along with neighboring states.
By the way, these five claim to have abandoned weapons and uniforms in their unit and have been in Colombia for more than two weeks now. They claim that they do not intend to endure the hunger from which Venezuela allegedly suffers.
Why snipers run away and perform, and not sailors, pilots or gunners, is not known. Perhaps this is a fashion or a tribute to the traditions of the US State Department. Mankind has not forgotten that every bloody "color" revolution was accompanied by accompaniment of shots from sniper rifles by "unknown" snipers. But in the case of Venezuela, it is already at least visually clear who exactly will shoot the protesters in the squares of Venezuelan cities, collecting sacred victims.
How long will all this go on, Nicolas Maduro? It's no secret that Venezuela is starving
- said five traitors, deserters.
Naturally, these five "starving" people are ready to recognize the "breadwinner" Guaido as the interim president of Venezuela.
We are ready for anything. Yes, it's possible, if it will be necessary for us to return in order to put an end to this corrupt government, we will do it
- said Lieutenant Manuel Sifontes, who, it turns out, still knows how to control the T-72 tank.
In this regard, the Venezuelan government can be advised on the option of minimizing the possible losses from the activities of this five sniper killers and the like, which without prejudice to conscience will calmly shoot their fellow citizens. Official Caracas is simply obliged to urgently release several videos, but rather small films, which will detail the activities of snipers in 2014 in Kiev, about snipers who killed people during the "Arab Spring" and other inflammations of "democracy." The necessary material is full on the Internet, it is enough to collect the available and translate it into Spanish, then show it to citizens and explain who exactly will kill them and for what.