In December 2018, Annegret Kramp-Karrenbauer became the chairman of the Christian Democratic Union (CDU) of Germany (which is often referred to by like-minded people as "our ACC"). She replaced in this responsible and important post the current Chancellor of Germany, the authoritative Angela Merkel, who led the party for almost 20 years, but refused to run again.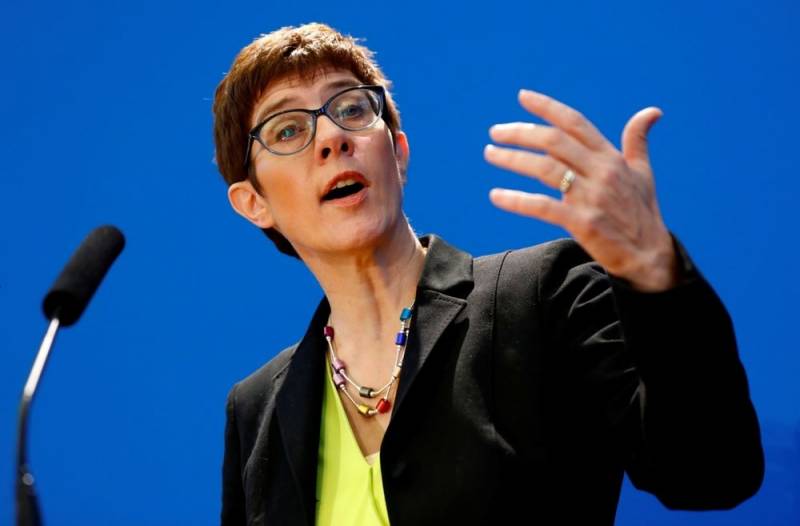 It should be noted that Kramp-Karrenbauer is an active supporter of the construction of the Nord Stream-2 gas pipeline and we are already discussing this in detail.
Reported
earlier. Therefore, it is not surprising that she is trying to influence not only
politicians
and EU officials, but also on the opinion of Europe as a whole.
That's how you need to consider the words of Kramp-Karrenbauer, "until someone comes up with something smarter" that related to the approval of EU sanctions against Russia. She gave a great interview to Internationale Politik, in which she expressed her point of view on this matter. You just need to read carefully and not snatch pieces of paragraphs out of context.
Now many complain
economic
EU sanctions. But critics do not name an alternative. They either hold the opinion that Russia's behavior that violates international law should be adopted, or they have ideas about other sanctions. Since we exclude military intervention, I am in favor of maintaining sanctions until someone comes up with something smarter
- said Kramp-Karrenbauer.
But many have already rushed to record Kramp-Karrenbauer as enemies of Russia. Perhaps someday she will become the Chancellor of Germany and she will be able to deploy the European Union facing Russia, without regard to shouts from the United States. In the meantime, she is doing everything possible so that Nord Stream 2 is built and put into operation.