Recently we
Reported
, as the famous Israeli political scientist Yakov Kedmi recommended the Russian authorities not to recognize the next presidential election in Ukraine, which should be held on March 31, 2019. And now, it became known that on this occasion the chairman of the Federation Council and the permanent member of the Security Council of Russia Valentina Matvienko thinks.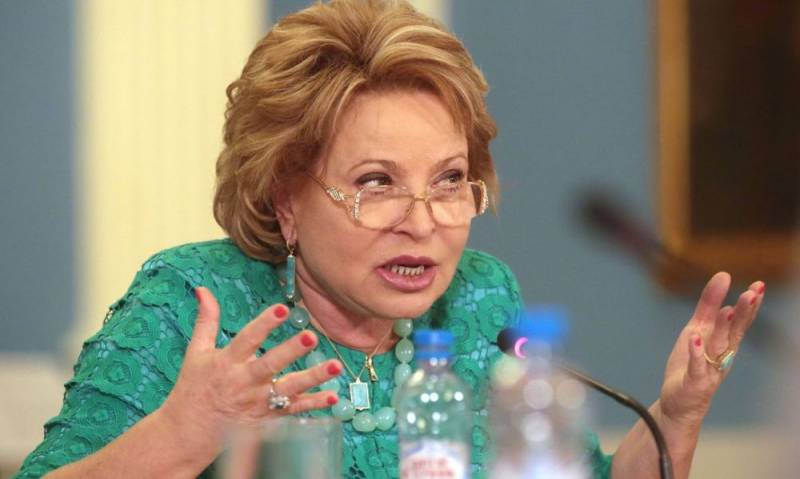 Matvienko believes that it is still premature to talk about the legitimacy (legality) of the upcoming presidential elections in Ukraine. First, you need to see what will happen there and wait for the conclusions of the observers, and only then draw conclusions ourselves to recognize or not recognize the results.
To say that we recognize the presidential elections in Ukraine, in my opinion, is too early. We will be guided by the conclusions of our observers, international observers.
- Matvienko said, answering a question
"Rossiyskaya Gazeta"
.
At the same time, answering the question whether Russia should recognize the results of the vote, if the Russian observers will not be on them, Matvienko replied that in any case, Russia will closely monitor what is happening. After that, it will be possible to draw some conclusions.
Matvienko drew attention to a number of existing violations of the electoral rights of Ukrainian citizens. For example, the absence of polling stations in the DPR and LPR. But if this can at least be understood because of the existing armed confrontation, then the absence of polling stations in Russia is impossible to understand.
It turns out that several million citizens of Ukraine are unjustifiably deprived of the right to elect the president of their country. Matvienko clarified that Russia will collect facts and will continue to closely monitor the development of events. Then he will make a final decision on the recognition or non-recognition of the election results.