The Italian company Jet Capsule, owned by designers Pierpaolo Lazzarini and Luca Solla, marked a new brainchild. This time, the manufacturer launched a mini-yacht called Royal Version 001, which already by tradition looks like a space capsule.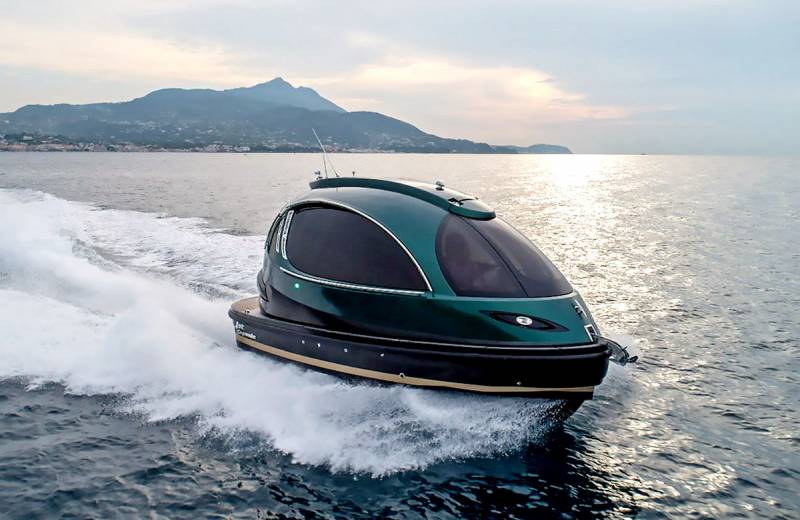 The Jet Capsule was first heard of in 2013 when he introduced his first motor boat. The next concept was released in 2015. Then the cost of the vessel was an impressive $ 150000. According to the information received, the Royal Version 001 model will cost the future owner $ 285 thousand, which is almost twice as much as the predecessor.
The futuristic yacht resembles the 2015 model, but it has larger dimensions: 7,95 m long and 3,44 m wide, and its height will be 2,3 m. The passenger compartment of the nine-seater ship is equipped with leather armchairs and has a teak finish. The entrance is at the rear of the boat. It also houses a small bar and a bathroom. It is worth noting that the new Royal Version 001 received a more advanced air conditioning system than its predecessor.
In addition, the speed has also increased in the new product, which now amounts to 115 km / h. According to the developers, the "space" ship will operate on one or two Yanmar diesel engines. At the same time, taking into account the Rolls Royce jet drive, the total power will be from 370 to 1040 hp. And also, the yacht will additionally receive a dual electric drive, which will allow it to move at a speed of 20 km / h.