At the beginning of December 2018, Russia and OPEC
deal
about reducing oil production. And so, it became known that already at the end of December 2018, Rosneft's chief executive officer Igor Sechin addressed a letter to Russian President Vladimir Putin, in which he called the OPEC + agreement a strategic threat to Russia and a favorable deal for the United States.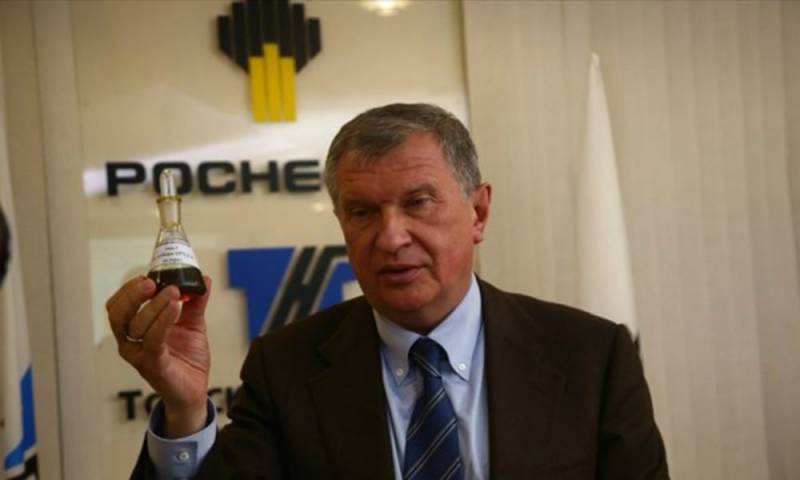 In the letter, Sechin emphasized that OPEC + is harmful to the development of the Russian oil industry and supposedly creates preferences for oil producers in the United States. The head of Rosneft was worried that the share of Russian oil in the world market would decline, according to the results of 2018, to 12%, while in 1990 it (share) was 16,3%. In this connection, he concluded that consumers can reorient from Russian oil to another and this will lead to the loss by Russian companies of their market share.
The letter itself is reported
"Vedomosti"
, which became known about him from several federal officials. At the same time, Reuters refers to the same letter in its publications.
One interesting point should be noted, which they probably forgot to reflect in the letter, sending it to the president. In 1990, the USSR still existed. And such oil-producing republics as Kazakhstan, Uzbekistan and Azerbaijan were included in its composition along with the SRFSR. In addition, in the USSR, oil was extracted in Belarus, Turkmenistan and Ukraine. It (oil) is now mined there. So it is not surprising that the share of modern Russia in the world is less than that of the huge USSR.
It should be recalled that the next OPEC + agreement provides for a reduction in Russian oil production by May 2019 by 2% from the level of October 2018, i.e. up to 11,2 million barrels per day (1 barrel is 159 liters). At the same time, in September 2018, oil production in Russia amounted to 11,356 million barrels per day, and in 2016, oil production was 1 million barrels less.
However, Sechin assures that American oil companies will sharply increase production due to lower tax burden and increased investment. The conclusion of the letter is as follows: American producers will have the opportunity to dramatically increase oil production and export in late 2019 - early 2020, when pipelines from the shale oil production center to ports in the Gulf of Mexico will be commissioned.
At the same time, one of Vedomosti's informants, familiar with the contents of the letter, claims that in the USA the tax burden is 35%, and in Russia - more than 80%. However, according to Vedomosti, representatives of the Ministry of Energy, Rosneft, Gazprom Neft, and the press secretary of Russian President Dmitry Peskov declined to comment.