NATO exercises called Talvelaager "Winter Camp" have started in northern Estonia. They are attended by more than a thousand troops - both Estonians and representatives of the countries of the North Atlantic Alliance.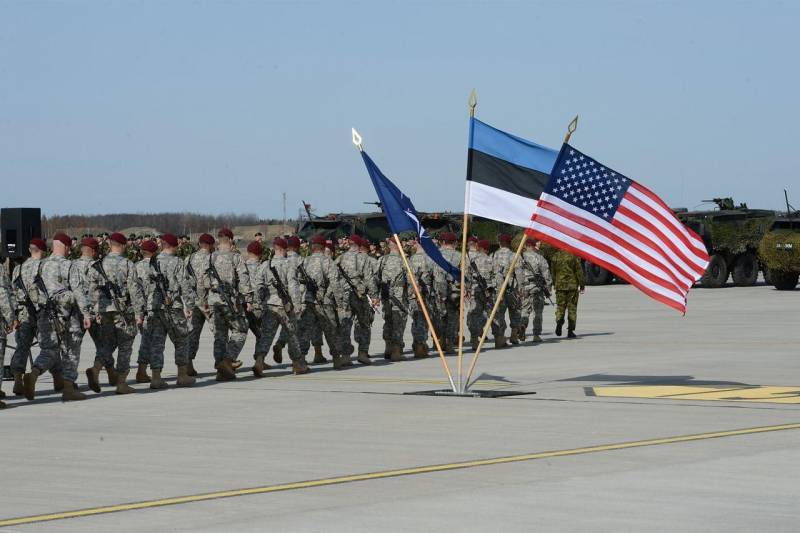 The press service of the Defense Forces of this country said that the military of the Reconnaissance (Scout) battalion of the First Infantry Brigade and the militias of the Kaitseliit ("Defense Union") are participating in maneuvers from Estonia. From the West - marines and units of the US National Guard, as well as soldiers of the NATO international battalion from Belgium and Britain. The sites for the NATO exercises were the Central Range of the Defense Forces and the range of the First Infantry Brigade in Soodla.
Recently, on January 25 of this year, the tactical headquarters exercises Furious Breeze ("Furious Wind") were completed. They also trained soldiers of the First Infantry Brigade of the Estonian Defense Forces and members of the "Defense Union" together with the military units of NATO countries. And ahead of this Baltic country, one more maneuver is expected with the participation of troops of Western countries - "Spring Storm."
Before the Winter Camp exercises, German Minister of Defense Ursula von der Leyen arrived in Estonia. She visited the NATO airfield at Emari, located in the north of the country. Currently, there is a squadron of German Air Forces that guard the airspace of the Baltic states. The Minister also met with her Estonian counterpart, Juri Luik, and stated:
The security of Estonia is also the security of Germany, your concerns are our concerns.
For his part, the head of the Estonian defense ministry expressed satisfaction that Germany was defending its allies.
Estonia, Latvia, and Lithuania joined the North Atlantic Alliance in April 2004. Since then, NATO has been constantly expanding its presence in the Baltic region, near the borders with Russia. Moscow, however, constantly opposes the militarization of the region and believes that all talk about the alleged "military threat" for the Baltic countries on its part has no basis.
Russian Senator Franz Klintsevich, member of the Federation Council Committee on Defense and Security, in conversation with
FAN
He said that Russia cannot influence the military exercises of other countries, but will closely monitor what kind of exercises they are and whether they pose a threat.
Following the results of these exercises, statements will again be heard about the need to allocate additional funds. Forming such approaches, the West is engaged in Russophobia, supports the mentality of its people with a negative attitude towards Russia
- The agency quotes the words of the senator.