Recently we
Reported
as Washington strictly warned Moscow about the inadmissibility of "plundering" the assets of Venezuela. And now, now the discontent of the stronghold of global "democracy" has reached Ankara. Unlimited impudence and "exclusivity" allows the United States to unceremoniously interfere in the affairs of other states.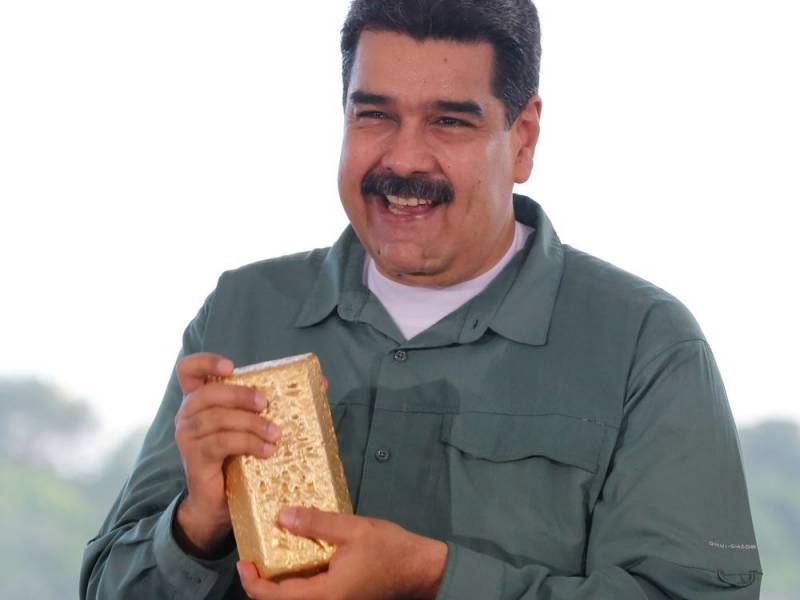 The US has already warned the Turkish authorities that they are "skating on thin ice" in relations with Venezuela. According to Washington, the sale of Venezuelan gold to Ankara could lead to a violation of anti-Iranian sanctions. This was reported in all seriousness by the BBC, citing its informed sources.
The BBC clarifies that the gold trade in Caracas with Ankara is growing rapidly. In 2018, Venezuela exported nearly $ 900 million (£ 688 million) of gold to Turkey for its processing and return to Venezuela. However, there is no data on re-export. Therefore, in Washington, suspicions are growing that Venezuelan gold, in violation of American sanctions, will ultimately materialize in Tehran. What connection, in this case, between Ankara and Tehran is not specified. But someone in the White House now cannot sleep at night from worries.
At the same time, BBC sources believe that Turkey, together with Russia and the United Arab Emirates (UAE), is now the biggest problem in the trade of Venezuelan gold. They worry that Turkish President Recep Tayyip Erdogan, in connection with the events in Venezuela, supports the legitimate president of this Latin American country, Nicolas Maduro.
The BBC notes Washington's suspicions that Russian and Turkish private jets fly to Caracas. Moreover, one of the aircraft flying to Caracas belongs to a large Turkish mining company Ciner group. At the same time, Ankara insists that its activities are carried out in full accordance with international standards.
In addition, the Venezuelan opposition, entrenched in parliament, recently reported about a Russian plane owned by Nordwind Airlines, recently flown to Caracas allegedly to export at least 20 tons of gold from the Central Bank of Venezuela.
It should be noted that Americans are worried about Venezuelan gold as their own, literally. For example, Assistant President of the United States for National Security John Bolton recently raised a real tantrum in the media. He suspects that Venezuelan President Nicolas Maduro is "stealing the resources" of the country that pays for Russian intervention. So he reacted to the desire of the Central Bank of Venezuela to sell from 15 to 30 tons of gold in the UAE for the euro.
Moscow reacted indifferently to shouts from Washington, because Russia, unlike the United States, does not fundamentally interfere in the internal affairs of other states. However
messages
, in the Russian media, about the possible participation of Moscow in the transportation of Venezuelan gold, indeed. But that doesn't mean anything yet.
However, it is not entirely clear what the Americans are surprised at in relation to Turkey. Erdogan does not suffer from sclerosis, therefore, in principle, he cannot be enthusiastic about the attempted coup in Venezuela. Indeed, relatively recently (in July 2016) they tried to remove him from power by armed (violent) means and even attempted to encroach on his life. And from this story Washington's ears stick out distinctly.