It became known that the President of Moldova Igor Dodon agreed with the President of Russia Vladimir Putin on the transit of goods that will go through the territory of Ukraine. We are talking about the removal by the Russian side of customs duties, which should lead to a significant increase in exports from Moldova to Russia and increase trade between countries.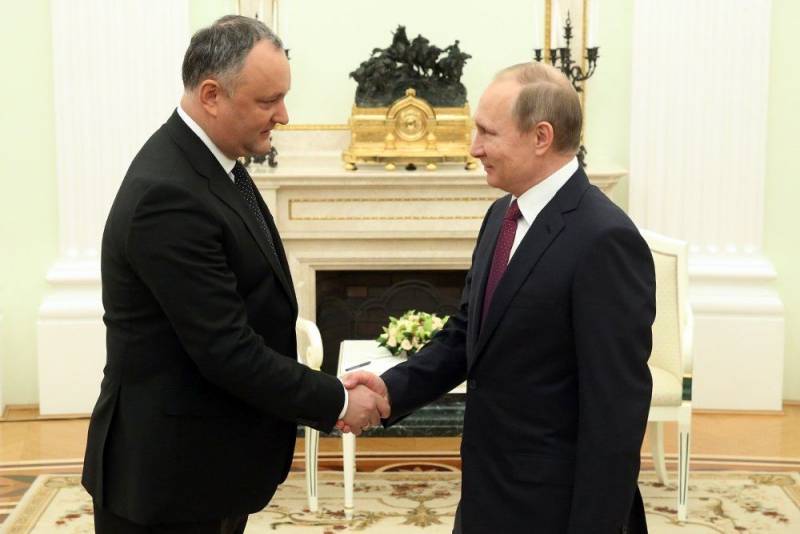 Dodon announced this on January 30, 2019 on his page on the social network Facebook, after a meeting with the head of the Russian state. After which he thanked the head of the Russian state and the entire Russian people for the support they provide to Moldova.
An agreement with Vladimir Putin - at the request of the President of Moldova, all Moldovan goods from today can be exported to the Russian market in transit through Ukraine. Along with the removal from the Russian Federation of customs duties on Moldovan goods, these decisions will allow to significantly increase trade between our countries in a short time
-
wrote
Dodon
In addition, a wide range of other issues were discussed, including the continuation of cooperation within the CIS and the Eurasian Economic Union (EAEU). Indeed, since May 14, 2018, Moldova has been an observer of the EAEU. The leaders also exchanged views on further, trade and
economic
(including investments) and humanitarian relations between the two countries. We remind you that 2019 has been declared the Year of Moldova in Russia.
The presidents discussed the situation in Transnistria and the amnesty of Moldovan citizens who violated the migration laws of Russia. Dodon told Putin that Chisinau had already agreed with Tiraspol that Moldovan citizens living in Transnistria would be given the opportunity to freely participate in the election of Moldovan MPs without any restrictions and barriers. Dodon also thanked Putin for
technical
assistance in the form of special vehicles of the KAMAZ brand, which should arrive in Chisinau very soon.