Recently we
Reported
how another coup attempt began in Venezuela, after which Russian President Vladimir Putin expressed his support for the incumbent head of the Venezuelan state, Nicolas Maduro, in a telephone conversation. And now, it became known that the President of Belarus, Alexander Lukashenko, also spoke on the phone with the legitimate president of Venezuela and expressed his support to him. This was the official website of the President of Belarus.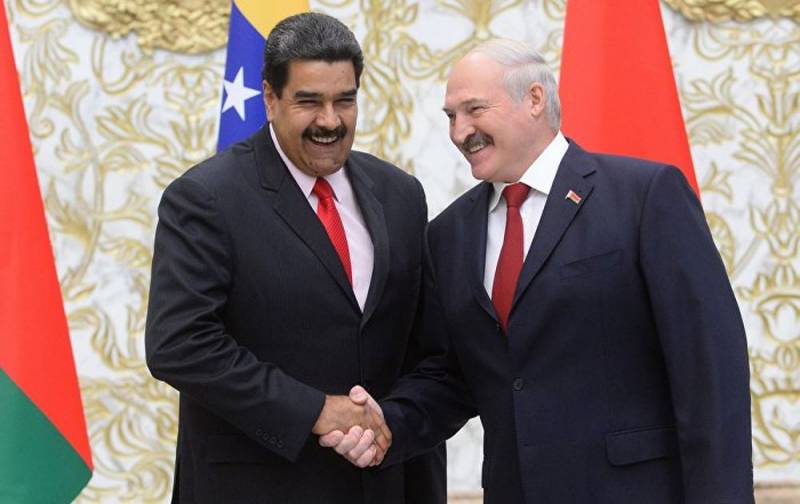 Strongly do not support any external interference in the internal affairs of a sovereign state, including those aimed at destabilizing the situation in the country
- said Lukashenko.
According to Lukashenko, Belarus is closely watching what is happening in Venezuela and empathizes with "the next round of tension." Minsk blames the events in this Latin American country on various destructive forces, both internal and external. So the official Caracas can count on the support of Minsk. At the same time, the leader of Belarus specified that he favors a peaceful settlement of the situation within the framework of the current legal framework, i.e. in full accordance with the constitution of Venezuela.
It should be recalled that on January 23, 2019, protests organized by the opposition began in Venezuela. At one such rally, Venezuelan National Assembly Speaker Juan Guaido, an opposition leader, declared himself interim president. After that, US President Donald Trump congratulated the impostor on his Twitter and officially "blessed" the coup.
At this time, many different media outlets, as if on command, began to show videos of thousands of rallies allegedly held in Venezuelan cities in support of the opposition. A whole group of states appeared immediately in the wake of US geopolitics, which recognized Guaido as President of Venezuela.
However, it quickly became clear that these are old videos in support of the current government. And after the Minister of Defense of Venezuela Vladimir Padrino Lopez made his
statement
, against the background of other senior Venezuelan military, the coup began to frankly "deflate." The effect of the initial informational-virtual impulse weathered and harsh reality began.