On January 23, 2019, another attempt to unconstitutionally overthrow the current government began in Venezuela. Behind the back of the opposition is Washington, which has been haunted by socialism in this Latin American country since 1999, i.e. already 20 years. We will soon find out how this attempted coup d'etat will end, but all these years official Caracas managed to hold on.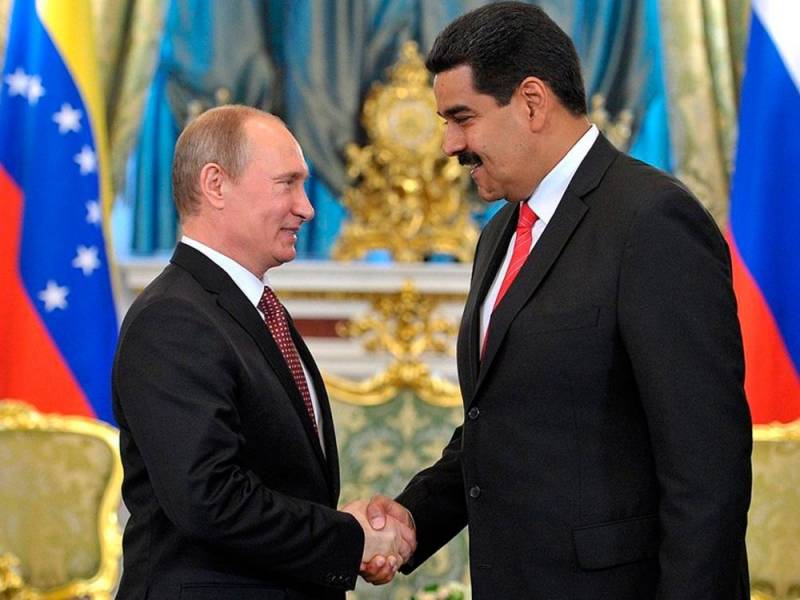 In any case, Russian President Vladimir Putin has already had a telephone conversation with the current President of Venezuela, Nicolas Maduro. This is stated on the official website of the Kremlin.
The President of Russia expressed support for the legitimate authorities of Venezuela in the context of an exacerbated exacerbation of the domestic political crisis. He emphasized that destructive external interference roughly violates the fundamental norms of international law
- said in a statement.
It is clarified that Putin advised Maduro to seek solutions to the existing
political
problems within the constitutional framework and overcome differences through peaceful dialogue. In turn, Maduro expressed to Putin his point of view on the events taking place in Venezuela and thanked Moscow for its principled position.
At the same time, the press secretary of the President of Russia Dmitry Peskov said that during the telephone conversation Maduro did not ask for help (neither financial nor military) in connection with the crisis that erupted in his country.
It should be recalled that on January 23, 2019, the speaker of the National Assembly (Parliament), Juan Guaido, declared himself at the rally the interim president of Venezuela. Immediately after that, U.S. President Donald Trump on his Twitter page endorsed the move, recognizing Guaido as Venezuelan President. After that, as the team began, a "parade" of Guaido's confessions from a number of other countries moving in Washington's geopolitical channel.
We previously reported how
army
Venezuela was put on maximum alert and how there
flew
Russian strategic missile carriers Tu-160.