On the eve of Ukraine solemnly celebrated "Day of Seriousness" or, in Russian, "Day of Unity." Political scientist and historian Volodymyr Kornilov commented on this very "holiday" and the speech of Ukrainian President Petro Poroshenko at it.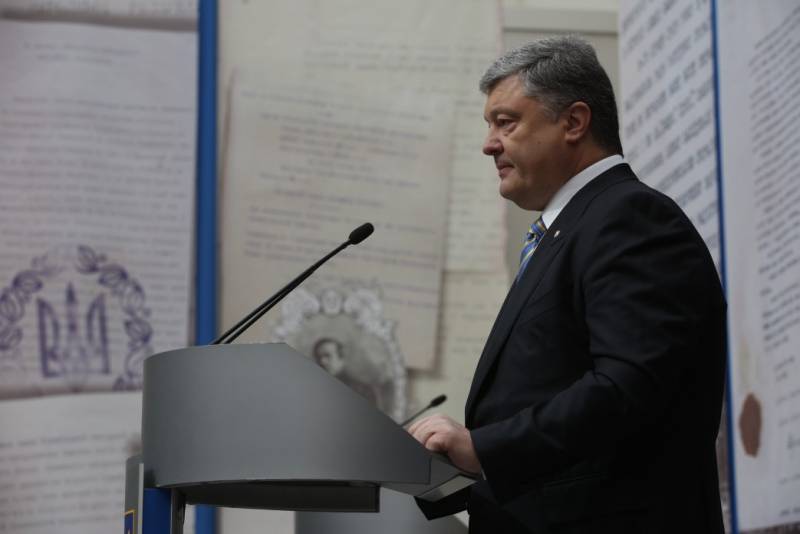 The date marked on January 22 by the Ukrainian authorities is the signing of the "Act of Seriousness". It is about the unification of the so-called Ukrainian People's Republic (UNR) and the West Ukrainian People's Republic (ZUNR). During the program "60 minutes" on the TV channel
Russia-1
Kornilov recalled that the existence of the UPR lasted only a week and a half. Moreover, ZUNR "did not control anything at all." And Poroshenko himself, the expert noted, was forced to admit that, in fact, no union could be achieved then.
Poroshenko showed a split consciousness, saying that this is the day of unification, but they could not unite. The holiday itself is nothing more than a demonstration of this split.
- said Kornilov.
The historian also emphasized that present-day Ukraine is the successor of the Ukrainian Soviet Socialist Republic (which was part of the USSR). And it was the Ukrainian SSR that "kicked out a united Ukraine" (which is discussed when they celebrate "Day of Unification").
She [USSR] simply did not recognize this association and defeated the Petliurists
- the expert explained.
According to him, Ukraine has not been able to achieve unity now. It is essentially the same "artificial formation" as it was a hundred years ago.
However, this is far from the only reason to accuse Poroshenko of a split consciousness. Speaking at this same "Day of Seriousness", he emphasized that Kiev does not intend to grant Donbass "no federations, no special statuses". At the same time, by signing the Minsk agreements, Kiev undertook to provide the mining region with a special status.
And not only Peter Alekseevich could have been given such a diagnosis. So, the Minister of Foreign Affairs of Ukraine Pavel Klimkin recently said what is needed
reconsider relations with Russia
, but at the same time, there is no question of any of their normalization. Thus, speaking of "reformatting," the minister actually had in mind the continuation of the same anti-Russian
policy
, which is carried out by Kiev since the coup.