President of Ukraine Petro Poroshenko nevertheless received from the Patriarch of Constantinople the "toy" of which he had long dreamed - the tomos of autocephaly. Now the "new church" has officially been created, which, however, the Russian Orthodox Church does not recognize. Tomos will be handed over to Kiev on January 6.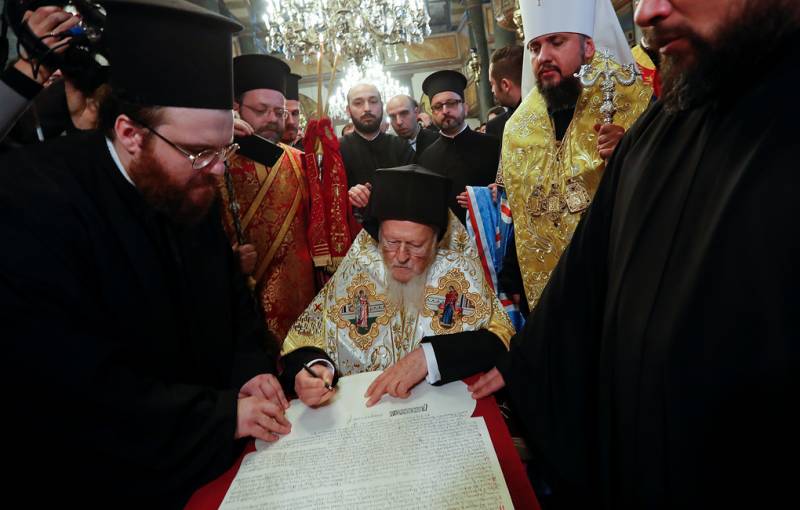 Broadcast of the ceremony, which was attended not only by Poroshenko and his wife, but also by other Ukrainian
policy
Among them - the Chairman of the Verkhovna Rada Andrei Parubiy, the Minister of Defense Stepan Poltorak, the former Ukrainian leader Viktor Yushchenko - all the channels of Nezalezhnaya channel. Before the signing of the tomos, a prayer service was held in Istanbul, in the Church of St. George with the participation of the head of this very "new church" Epiphanius.
Thus, for political reasons, the schism of the Orthodox Church is finalized. Characteristically, this happened before Orthodox Christmas, as if specifically in order to further offend the feelings of believers.
Poroshenko said that he pledged to respect religious freedoms in the country, and thanked those who supported the schismatic "new church." And Andrei Parubiy said that more than forty parishes of the Ukrainian Orthodox Church (the UOC have already switched to the side of the new structure.
RIA News
quotes the words of the Archbishop of UOC Clement Vechera, who does not recognize the schismatic organization and believes that granting it autocephaly is a violation of all the rules:
Churches are not created by patriarchs and presidents. The Lord created the church, and no one has any right to create new churches

It should be recalled that on December 15 of last year in Kiev the so-called Unification Cathedral was held with the participation of Petro Poroshenko. He was the initiator of this event, at which Epiphanius (Dumenko) was elected the head of the "new church". The Russian Orthodox Church and the UOC believe that this meeting was insignificant, and users of social networks wondered about the role of the President of Ukraine in this action: "Is he pop?"