Epigraph: "The meeting will be! .. Everyone will die! .." (V.V. Putin, the answer of the leading Channel 1 on the Direct Line to the question, will there be a meeting with Trump, and how will the Big Game end?)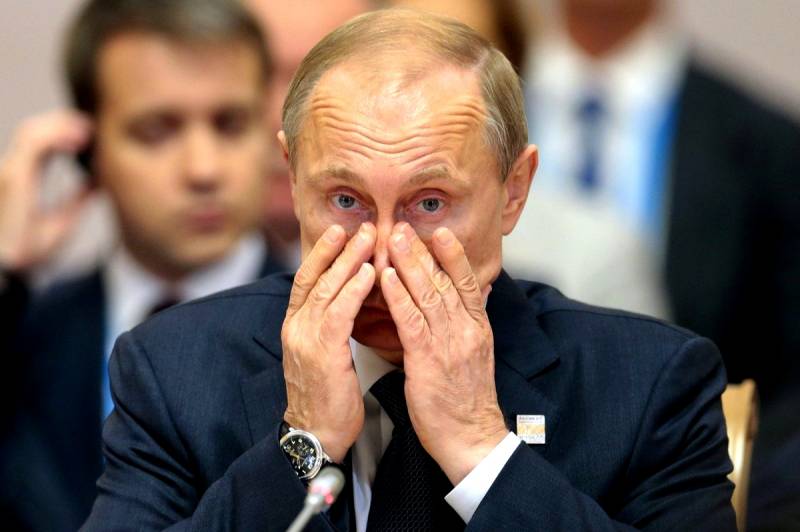 Nearing the end of the calendar year. It is customary to take stock. I don't know, as with others, but somehow, after 2018, optimism has diminished. And, it seems, everything is fine, Putin was re-elected, the World Cup was held, we are winning in Syria, but I have the feeling that we are surrendering on all fronts. And I'm not even talking about oil prices and the dollar exchange rate, I'm saying that this is a temporary and permanent phenomenon, and not even about the pension reform, which many Russians reared, but I know that there was nowhere to retreat with it, there's a gap , and Putin deliberately went to the loss of his own rating, clearly realizing that he could not leave such a time bomb to his successor - they could easily demolish it and set in motion all the mechanisms that lubricated and tuned our cars so carefully all this time enemies pyaschie and seeing the collapse of the Russian Federation. And even the cartoons scrolled by the GDP before the Federal Assembly of the Russian Federation on March 1 of this year did not give me confidence in our future, seeing the reaction to them, or rather the lack thereof from our sworn "friends and partners".
And the reason for this was the fact that this year we somehow quietly lost our strategic initiative, finally switching to the game "second number", doomed to kick back, and sometimes not even answering them, pretending that we are above this, substituting already under the next. The West is slowly but surely pulling a noose around our neck. You will believe in the reality of the "Anaconda plan." Where are our vaunted asymmetric answers ?! I already agree on symmetrical ones, but they are not there either. The Minister of Foreign Affairs, deeply respected by me, Sergey Lavrov, has turned from the Minister of DLB ​​BLD into the Minister of "deep concern and extreme concern," releasing all the brazen attacks of our "partners" on the brakes, not to mention the tricks of the coast that were guaranteed by the West impunity of "non-brothers". I'm tired of feeding my readers with the next "cunning plans" of Putin and Lavrov, explaining to them what I myself can't explain. Therefore, this text will be kept at a slightly different angle, let the witnesses of the "Great Pu Sect" not accuse me of betrayal, it's just that the end is over, and human patience too. If in the end it turns out that Putin purposely "surrendered Moscow" in order to force the "conditional Frenchmen" to retreat along the Smolensk road they plundered, which would lead to the final victory of Russia, then I will be ready to publicly apologize. But now I don't understand our Kutuzov's plans. How long will we retreat? Only Moscow is left behind! Kiev and Yerevan, Chisinau, and Minsk have already passed.
The last to be handed over this year was the Donbass. Lavrov opened up. All of you, probably, watched or listened to his interview with the Komsomolskaya Pravda journalists. And how else else do you order to regard his words: "We are not at war with the Ukrainian regime. Russian-speaking citizens of Ukraine who live in the Donbass are fighting against the Ukrainian regime, which has all the features of Nazi and neo-Nazi. We have relations with the Ukrainian state. The Ukrainian state is much more and much more important for us than the regime that came to power thanks to the West's betrayal of all norms of international law and international behavior. The Ukrainian people have nothing to do with it. And the overwhelming majority of the Ukrainian people, I am sure, want peace for their country, want to get rid of this shameful regime, and want to return to normal relations with the Russian Federation. Of course, this will have to resolve the internal problems of Ukraine. They are much wider and much deeper than just the problems of the DNI and LC. Now we are obliged to fulfill the Minsk agreements. And I believe that they have no alternative. Do you propose to recognize the DNI and LC? And then? Do you want to lose the rest of Ukraine, leave it to the Nazis? .. We will not fight with Ukraine, I promise you that. You see, sometimes the recognition of independence, as you now propose the DNI and LC, and the declaration of war (I can not imagine how it is, how Russia will go to war in Ukraine) - sometimes this is a manifestation of a nervous breakdown and weakness. If we want to keep Ukraine a normal, sane, neutral country, we must make sure that everyone who lives in Ukraine is in a comfortable condition. And if now you want to leave the rest of Ukraine as national holidays, the day of the creation of the OUN-UPA, the birthday of Shukhevych and Bandera and proceed from the fact that there will not be celebrated on May 9 as Victory Day, I do not agree with this. The Minsk agreements enshrined the principle of decentralization of Ukraine, enshrined the principle of the Russian language as the language of use where Russian-speaking citizens of Ukraine want to speak it. The fact that this regime is now beginning to destroy its own constitution guaranteeing the rights of the Russian language, that it is beginning to destroy all its international obligations, does not mean that we must abandon all Ukrainians under the leadership of this regime. I understand that if we now sever all relations with this regime, yes, in the village of Zaitsevo we will be glad for a week. And then what will happen? Then you will explain why we lost Ukraine for a progressive, civilized humanity. And we want to save her. And so now we have an international legal basis to demand from Ukraine and, most importantly, from the West, which is now leading this Ukraine, that Minsk 2 be respected ... So I am convinced that they are only waiting for us to stop relations with Ukraine and got out of the Minsk agreements. Just like after the coup on February 20, 2014, they wash their hands and say: well, you see, she died, she died. We are not connected anymore. This will be the greatest mistake ... "
Those. Sergey Viktorovich is a supporter of the Minsk agreements, which are not implemented, and which are only a screen for the Kiev regime, behind which he manages his affairs. And it has been going on for 3 years and Lavrov is ready to wait. For the comfort of the citizens of all Ukraine, he is ready to sacrifice the comfort of the inhabitants of the LDNR, because there is no other alternative. Somehow, sad, don't you? They drove themselves into the Procrustean bed of the Minsk agreements and themselves became hostages of Kiev, which even the West does not have a decree. Or maybe you should change the rules of the game, and put our "partners" in front of a new
political
recognizing LDNR and declaring that an attack on LDNR is tantamount to an attack on the Russian Federation. Indeed, they attack the Crimea, for some reason they do not risk. But they also consider it their territory. And why? But because it's scary! And what is worse than the Donbass Crimea? Maybe shed a little blood? Until we understand that in this world only the right of the strong is respected, until then we will rake and express "an extreme degree of concern".
I have long been a sympathizer of the Minister of Foreign Affairs of the Russian Federation, moreover, I always believed that he was part of our invincible nuclear triad Putin-Shoigu-Lavrov, for which I was never ashamed anywhere, but at the last press conference, (I can , now I will express a controversial opinion), my beloved Sergey Viktorovich had a frankly miserable look. Perhaps this is due to the aggressive manner of interviewing Daria Aslamova, but Lavrov's answers alone did not convince me at all. In some places he contradicted himself and made a really sad impression, although I cannot but note his restraint and diplomatic tact. But we are all so tired of these constant curtsies towards our enemies, whom we persistently continue to call "dear partners", which we sometimes want to shy away from the rostrum with our feet, so much so that the rostrum is in the trash. How much more will we allow openly wiping our feet on us and expressing our next concern about this? If Gromyko was Mr. No, and Kozyrev Mr. Yes, then Lavrov for me is now associated only with Mr. Extreme Extreme Concern. And I'm frankly sad from this.
Why can China for one captured Chinese woman, daughter of the owner of Huawei, capture two Canadians and prohibit the sale of Apple on its territory, but we do not ?! We watch how they mock our Maria Butina and only shake our heads. We that there is nobody to take prisoner or nothing to prohibit the sale? The same Apple, for example, or Mac Donalds. What are we afraid of? In this world, only power is respected! Take the example of Kim Jong-un! Do not like North Korea, take the example of the PRC. In response to their demarche from the American litter, all the gloss instantly flew away, the daughter of the Chinese boss was released under house arrest on the same day. It turns out that it acts? We must already end with these asymmetric answers. Let's answer at least once symmetrically. And then, they are demolishing the monuments to Vatutin and Suvorov in Ukraine, and we are showing them cartoons. They disavow the Treaty of Friendship and Cooperation, and we say that we will not leave the Ukrainian people friendly to us alone in trouble with the Nazis who came to power. What have we actually done? Didn't they leave him with them, hiding behind the Minsk agreements, having betrayed the Donbass?
No, I also understand the logic of Lavrov that Russia does not have so many instruments for influencing the infuriated territory, that by recognizing LDNR, we will actually bury the rest of Ukraine for Russian influence on it. And that the game is not over yet. On the contrary, the middlegame itself. Russia does not abandon attempts to influence Ukraine through its last instrument of influence on it - Donbass. It is worth starting to wait for the elections in Ukraine (if they are), then maybe the position of the Russian Federation will change. In the meantime, the residents of Donbass are offered to tolerate. Indeed, the recognition of LDNR will lead to a change in its status, it will actually become a sanitary cordon between the Russian Federation and Ukraine and runs the risk of freezing in this status for many years, following the example of Transnistria. Ukraine is very important for the Russian Federation, the Russian Federation does not pretend to Georgia and Moldova, but pretends to Ukraine, wanting to achieve a change in its status to non-aligned, friendly to us, or at least neutral. And if LDNR is recognized, then the diplomatic way of reformatting it from within will no longer be possible, only war will remain. But Donbass from this all is not at all easier!
Over the years, the Donbass has become our undisguised defeat, a stain of shame that will clouding our consciousness for a long time to come. For 5 years, we have allowed the war criminal Poroshenko to kill there and mock the Russian people who are guilty before him only because they wanted to remain Russian. Recognize Russia Donbass, none of this would have happened. But the Kremlin prefers to play its cunning political games, leaving people untimely between the past and the future, when you don't know what will happen tomorrow and how you will feed your own children. And this has been going on for 5 years! The Great Patriotic War lasted less. Where does the people of Donbass get so much patience? And why is it worse than the Crimea? Maybe not enough blood shed? So no, more Crimean will be. Maybe there people are not Russian enough? Also not, there are not even Crimean Tatars. So how long will this shame continue? Starting from the forgiven boilers near Ilovaisk, Debaltseve, Zelenopolis and not taking Mariupol, and ending with the killings of Zakhar, Motor and Givi. And I'm still silent about reprogramming the rest of the population remaining in the occupied junta territory, about cultivating from it a stupid and embittered herd of rams with a changed psyche and a broken historical code, which will soon be ready to go trampling anyone whom the gentlemen puppeteers pointing behind the screen indicate of this action. Herds over which psychological experiments are conducted, which even such a ghoul as Goebbels could envy. We gave these bastards the main resource - time so that they could harvest from the seeds sown in 2014. And this was categorically impossible. This is worse than a crime - it's a mistake! Once the wind has sown, it will reap the storm!
After 5 years, it becomes completely clear that the main geopolitical defeat, without which there would be nothing, the Russian Federation suffered in 2014, allowing Ukraine to be torn away from its sphere of influence. This was a personal mistake of Putin and his main geopolitical defeat, which pulled all the others. In connection with this, his recent words come to mind at the All-Russian Forum of Professional Navigation "PROJECTORIA" in Yaroslavl, when speaking to students with an open lesson, Putin remembered Yeltsin's offer to become president of the Russian Federation: "When the first president of Russia Boris Nikolayevich Yeltsin called me to and said to himself: "I want to introduce your candidacy to the State Duma so that you are the prime minister, and then I will offer you to go to the presidential election. Do you agree? ", I told him:" No! " He was very surprised then. He was such a kind of person, says: "Why is this?" I told him: "Boris Nikolaevich, I am not ready!". (from). Addressing schoolchildren, Putin then wished them to be ready to make important decisions in life as soon as possible. But in 2014, in the year of turning points for Russia, Putin himself was not ready for the historical challenges that fell on his lot, again, as in 1999, hesitated and did not dare to stake everything in order to help Ukraine restore the violated there is a constitutional system, limited only to Crimea. Now we are all reaping the fruits of his indecision.
The main irreparable geopolitical mistake of Putin and the main geopolitical defeat of the Russian Federation is that Putin in 2014 did not strangle this infection in its infancy. Now it is clearly clear and understandable. All the conditions for this were created - the permission of the Federation Council for the use of troops was received, the appeal of the legitimately elected president of Ukraine, too (recall, this was before the Crimea!). But Putin did not dare. For what now and rakes! But then it was easy enough to do. The junta was completely incapacitated. Having destroyed the power vertical, she still had no time to propose anything in return. The security forces took a wait and see attitude. Everyone was waiting in whose direction the bowl would swing. And Putin had all the tools to swing her toward the Russian Federation. But he preferred to confine himself only to Crimea, leaving the people of Ukraine face to face with the Bandera rabble who crawled out of some dusty OUN basement, who knew the taste of human blood. If he had acted decisively, there would have been nothing — neither Boeing, nor Tomos, nor Donbass, nor the endless ships with Ukraine for its debts and gas transit, nor problems with the gas transportation system, would not have had to build an SP-2 and TP, there would be no disrupted production ties between the military-industrial complex, which entailed the problems of the fleet and Russian Helicopters, there would be no constant threat of aggravation and provocation by the junta and blackmailing it by American bases and NATO ships in the Black and Azov Seas. True, there would be no Krymnash and Krymsky Bridge, but why did he need the Russian Federation, we have already spent a lot of money and will spend it, and that's all, as if in the abyss. But sanctions would always be. And there will be more! But so at least designated the coast for which it is NOT possible to swim! They would have respected both Russians and their sympathizers around the world. And really, not in words, but in fact they proved that the "Russian world" is not a slogan, but a guide to action. And thus, they would demonstrate to the whole world that Russia is not interested in territories, although strategic, but in people. Those same Russian people. By the spirit and way of thinking, and not by nationality. And then I could say, yes, this is our VICTORY, a great and real victory, and not what we have now.
"If a country chooses shame between shame and war, then it will receive both shame and war!" These are the words of Winston Churchill, they have the most direct relation to us. Ukraine has always been, is and will be a zone of strategically important interests for the Russian Federation, without any reference to Brzezinski, the zone of its influence and its final loss will become a permanent bleeding wound on the body of the Russian Federation. The Americans, we must pay tribute to them, knew very well where they were beating and what they were doing. And all naive idiots can still reassure themselves with hopes that it will somehow resolve itself. She will die. Disappear. It will decompose into atoms. Will not disappear and will not decay! Only together with the Russian Federation! This is a shahid mobile aimed at us. This embalmed corpse has not yet fulfilled its purpose. He is artificially kept afloat by the hands of the IMF, they are pouring gasoline on him - the other day another 3,9 yards of green were thrown into the furnace of a dying man. Why are these gentlemen doing this? Well, certainly not for the future prosperity of the people of Ukraine. Mortuary equip the last journey. Stuffed with RDX (the other day Congress approved the delivery of another lethal weapon). To all naive idiots, I say - you don't get away from the war anyway! Waiting for Ukraine to hit first? Wait! This command is not given by Kiev, I hope, at least you understand this? Stalin had a chance to strike first. Did not have time. As a result, he lost half the country. He returned 4 years, paying for it with 27 million lives.
If in the 1st act, a gun hangs on the wall, then in the 4th act it will certainly shoot. The third act of this tragedy has just begun. See you in the next world, tell me later how it all ended. And then do not say that I did not warn you! I hope this time the lessons of history will be taken into account.