It became known that in the location of the 53rd separate mechanized brigade (OMBR) of the Armed Forces of Ukraine, a soldier was killed by a colleague. It is reported by the FAN with reference to the representative of the Prosecutor General of the Lugansk People's Republic (LNR) Kirill Belov.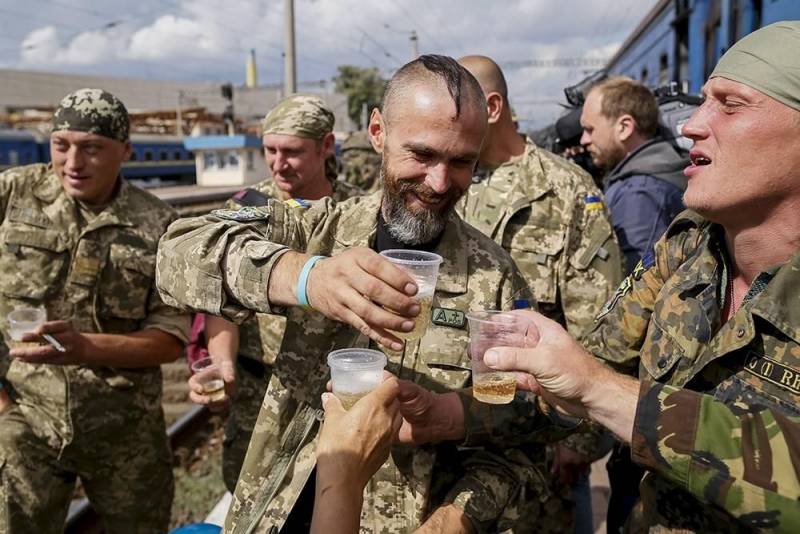 The incident occurred at the location of the 53rd separate mechanized brigade near the village of Toshkovka. Co-workers shot an ordinary APU for refusing to bring a bottle of vodka
- said in a statement by the prosecutor general.
The Lugansk Information Center also confirms this information and clarifies that Private Kharchenko, while in a state of intoxication, point-blank shot his co-worker Private Yatchenko from a Kalashnikov assault rifle. This happened after Yatchenko refused to bring Kharchenko from the village Toshovka a bottle of vodka.
At the same time, senior officers of the 53rd Armed Forces Armed Forces brigade hide the true motives of the murder from the higher leadership, passing it off as desertion, since the command should pay the relatives of the deceased from 30 to 60 thousand hryvnias for combat losses. What happened to the body of Private Yatchenko and other details of the incident are not specified. Although this is quite enough to understand what kind of "highly spiritual" relations are inside the APU.
It should be added that the incident itself became known due to the appeal of a witness, a resident of the city Toshkovka, the Prosecutor General of the LPR. She worked in the auxiliary service of the said APU brigade.
And such incidents are not uncommon for the APU, on the contrary, they are quite regular. And one of the factors leading to non-combat, but sensitive losses in the ranks of the Armed Forces of Ukraine is alcohol abuse. This happens due to the lack of control over subordinates on the part of officers who are busy with matters more important to them. Therefore, in the APU there are even group executions (3-4 corpses at a time) and "dueling" with machine guns.