Foreign Minister of Ukraine Pavel Klimkin burst into an article for Politico, in which he attacked Russia and its president, Vladimir Putin, with reproaches. The incident, which took place on November 25 this year in the Black Sea, the minister described very colorfully and artistically.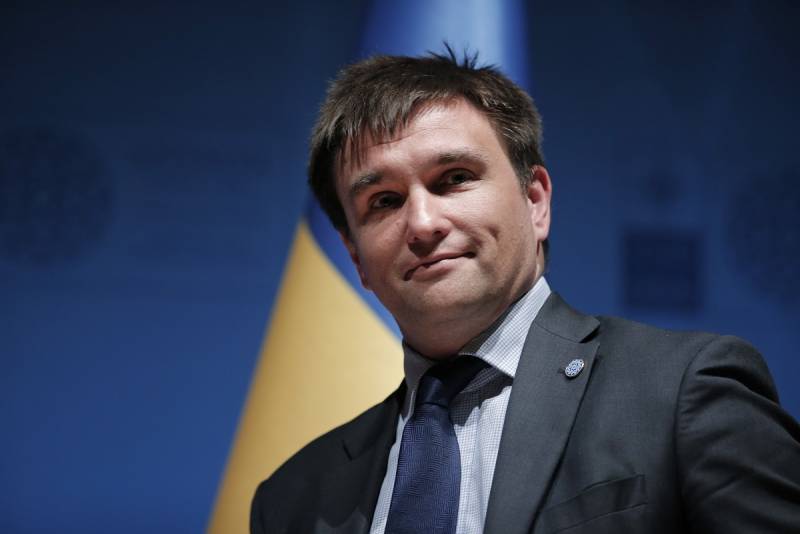 Describing Russia's behavior during this incident, the Ukrainian minister said that in this way Putin grabbed Ukraine by the throat, and even squeezes it. He allegedly wants to strangle Ukraine and silence it, to see all its failures and after that to annex it to the Russian Empire.
According to Klimkin, Putin is annoyed that the Ukrainian population wants to "look to the West." And therefore, they say, the Russian president will do everything to destroy Ukraine.
To counteract such ambitious plans, the author of the article suggested that the West continue to put pressure on Russia and strengthen it.
Klimkin's remarks are not something especially new, considering that in about the same vivid fantasies other Ukrainian
policy
painted "the Russian aggression" invented by them. All these fantasies differ from each other, except, perhaps, in the details and metaphors used.
However, the Ukrainian authorities - after the Kerch incident, as a result of which three vessels - the border violator - were detained along with their crews - say that they are preparing to repeat the action. That is, to re-direct ships through the Kerch Strait.
Of course, for Russia a few more ships will not be superfluous (although it's somewhat expensive to feed the arrested sailors), but Klimkin tells how Ukraine was seized by the throat and strangled. Apparently, "Nenko" liked the strangulation process too much, since she is so eager for repetition. How can one not recall the joke about a frog raped in a swamp, which says that it will again go to the same swamp!