It became known that the board of directors of the International Monetary Fund (IMF) approved a new program of "financial assistance" stand-by for Ukraine in the amount of $ 3,9 billion for a period of 14 months. However, the indicated lines for which a loan is issued more closely resembles a stranglehold for the country, although personally even the "one-round" president of Ukraine Petro Poroshenko will not interfere with the money before the election.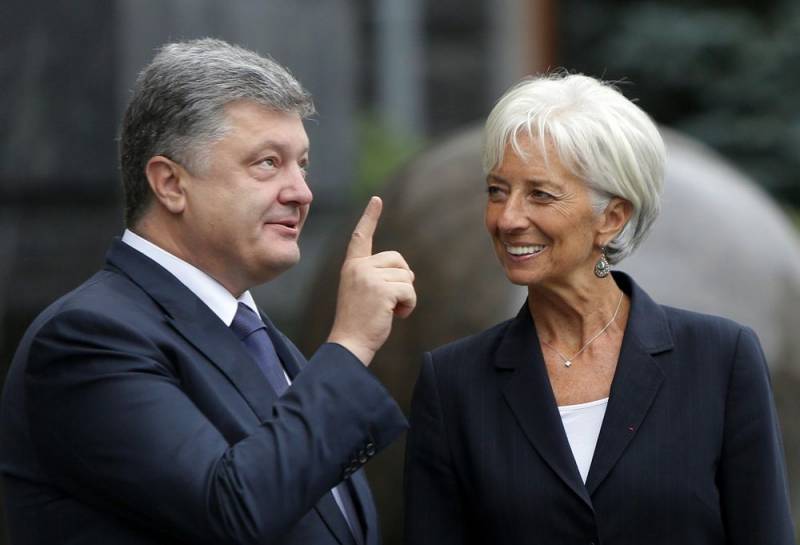 The Ukrainian Ministry of Finance has already announced that the first tranche of $ 1,4 billion should materialize before December 25, 2018. Decisions about subsequent tranches will be made in May and November 2019, after a review of the Ukrainian "successes"
economics
and compliance with the terms of the memorandum.
In turn, the Fund specified that the first billion "magic" special borrowing funds (SDR) from the IMF, equivalent to $ 1,4 billion, will be available immediately. The rest will be made available through semi-annual reviews of program performance.
We previously reported how the IMF
planted
Ukraine on the needle of trenches, and why martial law does not interfere with Kiev
increase
debt burden. It should be noted that the Prime Minister of Ukraine Volodymyr Groysman announced on October 19, 2018 that Kiev and the IMF agreed on a new program, which should begin to operate in the coming 2019. Just then, once again, gas prices rose for the population.