This text is designed to reassure the most impressionable of our citizens, who are very far from the oil market and everything connected with it, but every morning from the end of November they start their day not with a usual cup of coffee, but with checks of quotations of the price of a barrel of Brent crude oil at auction ICE Futures Europe (an exchange that accounts for about 50% of the global turnover of futures for oil and petroleum products). Exchanges, where, in fact, the North-European reference brand Brent is traded, to which Russian Urals brand oil is also tied. Although they don't understand anything about this, they were told on TV that the stock exchange had an unprecedented speed and power collapse of quotes, and in November we caught a bottom that we have not been catching since October 2017. And now they, frantically wringing their hands, shouting: "Everything is gone, boss! Plaster cast! The client is leaving! ", The exchangers stormed in the hope of seeing 100500 rubles for one American dollar there. But for some reason they see there all the same 66-68 rubles for one green piece of paper with the face of the first president of America. After that, one client of a psychiatric hospital becomes more.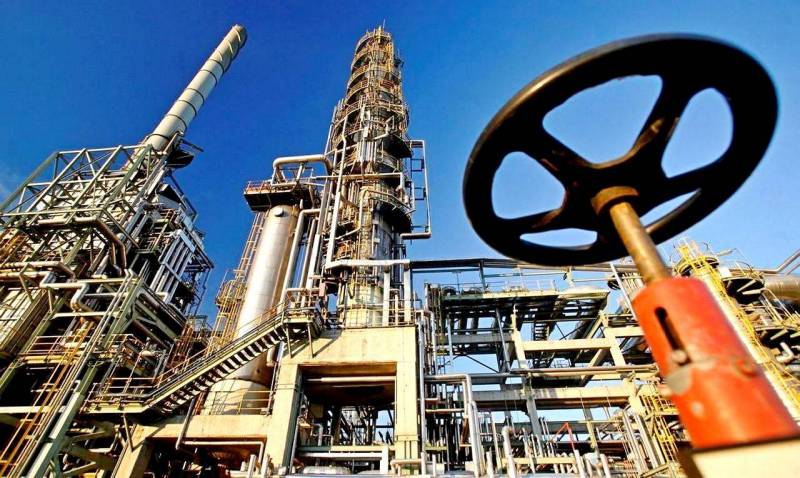 These are the same citizens who in December 2014 already scared each other and sellers with shouts: "Everything is gone, boss!" and "Don't borrow after me!", knocking down hooves in the blood, searching for the beginning of a cheap dollar, and then not finding one, in a fit of despair wrapping around the shelves of all electronics stores, jewelry and fur boutiques, as well as car dealerships, including those selling exclusive sports cars . Apparently then their own sad story did not teach them anything. What did they then do with the plasma panels and washing machines bought up for the future, when the dollar returned to its previous mark, I do not know? And now again in a new way?
I want to reassure them and everyone else who does not closely monitor the oil market - nothing bad happened, everything is under control, everything is within tolerances. Yes, there was a collapse of quotations and Brent crude for two months fell by almost a third (31,3%) - from 86 to 59 dollars / bar. So what? I've had worse! In January 2016, we already saw 27 dollars / bar, and nothing - survived. So should we be sad? Let the Americans worry - they have the cost of their shale oil ranging from 29 to 39 dollars / bar, and this is in the most profitable fields, and there are fields where the cost exceeds 50-60 or more dollars / bar, for them the reduction in the price of death is like . Although Trump calls for lower prices, but believe me, he is cunning. At least he says one thing and does the other - the sanctions against Iran announced by him will lead to the exact opposite. And even his rhetoric in the Khashoggi case contributes to this, despite the fact that Trump is unlikely to take action against the Saudis, but the sword brought over them has already begun to affect the price of oil.
The thing is that the oil market is very volatile, it instantly reacts to all kinds of info-reasons by falling-taking off quotes, some especially impressionable people are being led because they do not understand its mechanism, and if everything is explained to them intelligibly, they will understand that we ( RF), in general, there is nothing to worry about - we are in any case a plus. Many people think that the oil business is very complicated, something like higher mathematics or quantum physics, and everything is really simple there. The number of market participants is limited, extremely small, and everyone has long known (there are only large oil producing countries with a little more than 10, the remaining 40 are extras that produce oil only for themselves and heed the elders, and Russia among the last three will be happy for it!). Tac toe is only big, but they obey the simple rules of the market: a lot of oil - the price falls, a little - grows. Everything comes down to cost: the Saudis have 3 dollars / bar, we have 5-7, (along with taxes 21-23), and the Pindos, who have now flooded their own market with their own shale oil, (because of which there is no place for an excess of Saudi nine), the breakeven point of the five most profitable shale deposits from 29 to 39 dollars / bar. For the rest of the developed fields, the price even at $ 45 / bar is a complete finish! Due to hedging (risk insurance, on-lending), you can extend another six months, then the pipe! And the end to the taiga emperor, or rather, the new king, who recently ascended to the oil throne and outstripped even the luminaries of the market such as KSA (Kingdom of Saudi Arabia) and the Russian Federation in terms of production due to the shale revolution. I'm talking about Donald Ibrahimovic, our beloved comrade, who, taking advantage of the success of his own shale oil industry, and the ban on oil export lifted under him, which had existed before in the USA since 1975, began to tar not only the domestic market with its own oil, but also began to supply it excess for export. Yes, it is so active that the United States in December 2018 for the first time since 1973 became a net exporter of oil and oil products (the last time the export of oil from the United States exceeded imports in 1973, then, in fact, the Ministry of Energy for the first time began to conduct relevant statistics). True, according to experts, the country's return to net exports will be short-lived, since the United States is one of the main consumers of energy in the world (the United States eats 22 million barrels per day and their appetites continue to grow). Well, about our hero, the King of the Oil Mountain, and his problems, I will tell a little below.
The hydrocarbon market, as it does not seem strange to anyone, is much simpler than the market for some FMCGs there, and not offend anyone present here. Believe it, the person who has lost the last 20 years of his life on the second of these. All the players of this terrarium have long been known to everyone, and they are accustomed to treat strangers only through the sight of a machine gun, virtual, of course, but shooting, nevertheless, without misses. The greatness of these gentlemen who wipe the walls of OPEC, along with the gentlemen who did not belong to this charitable organization (OPEC +), is given only by the mad sums with nine zeros rotating there. But the oil market, like any others, is subject to the same laws.
economics
, and demand determines supply there, but not vice versa. No cart has yet managed to ride ahead of the horse, and because this horse does not eat oats, but oil, nothing changes. The war in this market goes for demand, i.e. in other words, for markets.
And just imagine that a stranger got into this market, behaving like a cuckoo thrown into a nest, throwing out everyone else. Not only did he print out his own oil fields and began to take away bread from those who had previously supplied their oil there (this is a stone in the direction of the oil sheikhs), so he also began to download rights and try to dictate the terms of pricing to the rest. And this is already impudent! After all, before this, only the elect of this world, the closed OPEC club, which includes only 15 countries of oil exporters that control 2/3 of the world's reserves and 40% of oil production (at OPEC +, which also includes some countries that are not OPEC members, including the Russian Federation, the latter figure has already reached 60%). And now, to these respected people, is some presumptuous cowboy trying to dictate terms? And the funny thing is that he does it. This is only a fool, Obama laughed at us, calling us a gas station in Europe, smart Trump quickly realized that this is a bonanza. In FIG him, how is Koshchei over gold to wither when a scientific
technical
revolution and technological progress will soon turn oil into the rudiment of an era. What should he do with his oil? On her bread, what should I spread? And well, let's push everyone, getting into the market of the elect of this world. Like, I also want to become a gas station in Europe, well, at least for the beginning of Asia, well, guys, move in! The chosen ones looked at him like that and said: "Guy, who are you? At first you at least become a gas station in the United States! " But I must say that Trump is sitting on a banner, because he imports heavy grades of oil for his own needs, and sells light shale (and only now he has started selling more than he buys, and not for long - the word "net exporter" means just that). The stretch is that Trump needs cheap oil and expensive oil for export. And this does not happen! The price is one! So it will be high. And the club of selected OPEC + in Vienna (with its December decisions to reduce total production by 1,2 million barrels per day) only confirmed this. What happens when demand exceeds supply? That's right, the price is rising! It just grows slowly due to the inertia of the entire oil mechanism (it's not for you to turn off the tap in the kitchen!). And Trump also understands this perfectly, just says one thing and does another. Why then does it block Iran and drive it under sanctions that impede the supply of Iranian energy resources to the world market (sanctions will take effect in April 2019)? From this, the price is only growing!
But let's leave our cowboy with his split personality to a psychiatrist, and we will consider the issue of his relationship with OPEC. This charitable organization, headquartered in Vienna, formed in September 1960, as a Middle Eastern response to the transnational Seven Sisters cartel (Exxon, Royal Dutch Shell, Texaco, Chevron, Mobil, Gulf Oil, and British Petroleum) in their attempt to dictate the price of oil market, risks not surviving to its 60th anniversary in 2020. And I'm not joking here at all. The days of OPEC's dominance are literally numbered. The score went for minutes! Everyone who thought that our Lord of the Mad Tomahawks, having entered the oil market, would put up with the fact that some Middle Eastern Bedouins still walking in their pajamas and sandals on their bare feet would dictate to him, the white man, the rules of the game, then he was deeply mistaken. Not attacked! Poorly, you probably know our Donald Ibrahimovic. No, he's not going to persuade anyone, and even flinging cruise missiles at them, as he shied at "animal Assad" (c), he's not going to. No, he's not a barbarian after all. Trump solved this issue more beautifully, in the legal plane, simply by multiplying all this "Sharashkin office" by zero. Why the American Congress has already begun preparing anti-cartel legislation called the NOPEC (No Oil Producing and Exporting Cartels Act - appreciate the humor of American congressmen, one name is worth it!). If adopted, domestic American courts will have the right to make decisions on antitrust lawsuits against OPEC member countries and other states for participating in a cartel conspiracy in the oil market. A cartel conspiracy is very bad! From the point of view of American legislation, it is equal in severity to tax evasion. And this is the worst economic crime in America. For him and the execution in some states can solder.
Given that OPEC from the very beginning of its formation was a cartel in a crystal clear form, it is not difficult to guess how events will develop after the adoption of the bill. The lawsuit of the "victim". Judicial Verdict Personal sanctions, including blocking capital, fines and even disconnecting from SWIFT. If the latter worked with Iran, then why not work with the oil sheikhs? And the Arab countries do not even have their own replacement for the system of interbank information exchange (but Russia and China already have it, the EU is developing, we can let it be used, if that). If OPEC is dissolved (no matter whether it is voluntary or forced), the US authorities will be able to bend any exporter personally, which will make the market weakly predictable and critically dependent on external and internal
policy
Washington. Other manufacturers, as well as consumers, will definitely lose in the end, which is clearly proved by the example of Iran and the EU. Thus, today the weakly predictable, but already irrevocable process of the final division of the recently common global united economy is launched. First of all, with a section on finance in the banking system.
See how simple it is. There was an OPEC "sharashkina office" and that's all - there is none! Trump, dropping off to visit the oil sheikhs, behaves in their halabud like an elephant in a china shop, in one awkward (or rather dexterous) movement, carrying her to hell (sorry for my bad English). Or, as they say in the circles of the enlightened intelligentsia, there was OPEC - and there is no OPEC, welcome to the new reality! Thus, the Cartel members really had the prospect of surrendering to the grace of the United States, which would certainly begin to rob them openly, as the Saudis are now, or to seek the opportunity to transfer to someone else's "alternative" financial jurisdiction "without the United States". And here we are with Vova Putin in white tuxedos and our alternative to SWIFT: Let's go guys in the calculation of oil for rubles! In principle, we can do without you, we have enough KSA. Together, the Russian Federation and KSA, now, by unscrewing or twisting the oil tap, can dictate oil prices monopoly (as of 2018, they accounted for almost 30% of global oil production). You all remember the famous "patsian" handshake of GDP and the Saudi Crown Prince at the 13th G-20 Summit. And remember that Trump's face. Donald Ibrahimovic is doing everything to ensure that our interests coincide. As with China, by the way. Agree that if Trump was not there, it would be worth coming up with. Grade kid!
Are you still worried about oil prices. Lord, what we want with the Saudi prince, such prices will be. Now we are satisfied with 65-70 dollars / bar for 2019. Please note that the Vienna agreement of December 7, 2018 OPEC + (15 OPEC countries plus 10 more countries not included in it, including the Russian Federation) to reduce production by 1,2 million bar / day has not yet entered into force (it enters into only in January and will last six months with a possible extension), and the oil price has already frozen at around 60 dollars / bar with a trend up. Lord, should we be sad? Look, let Donald Ibrahimovic worry, God grant him health! (As we were lucky with the 45th president of America, it was not in vain that we invested in its promotion!). Everything will be fine!