A recent photograph of the President of Ukraine against the backdrop of paratroopers made a lot of noise, because, as it turned out, the uniform of one of the servicemen was
Chevron with the symbols of the SS Panzer Division
"Dead Head". Now this paratrooper tried to smooth out the negative impression that arose among the commentators of the picture and caused widespread discussion in the media.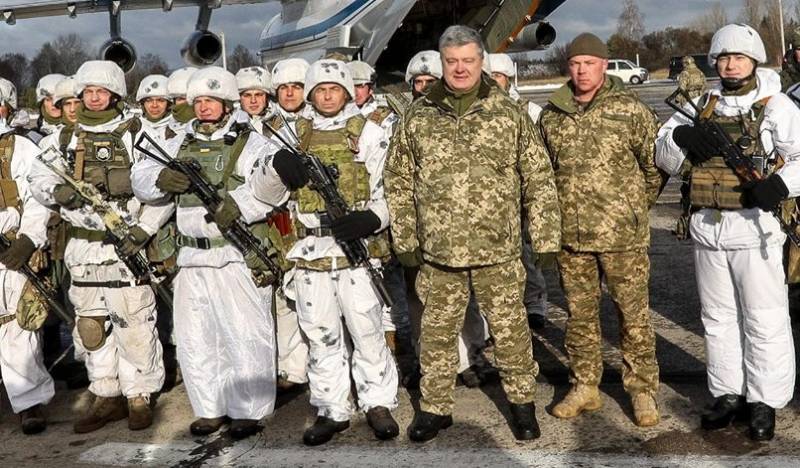 It turns out that the paratrooper did not know what exactly the sign that was on his form meant. Confused, they say, with pirate symbols.
Dear compatriots and battle brothers! I want to apologize for my use of a chevron, similar to those used by Nazi units
- wrote a military man whose message was published on the command page of the Airborne Assault Troops of the Armed Forces of Ukraine on the Facebook social network (it was on this social network that the scandalous photo of Poroshenko appeared).
Moreover, a paratrooper with unseemly symbols was criticized even by his colleagues. And he himself says that he admits the mistake and is even ready to bear responsibility for it.
Earlier, a deputy of the Russian State Duma from the Crimea, Andrei Kozenko, spoke out about a photograph of the Ukrainian president in which a soldier with an emblem "lit up". He called on Europe to respond to this incident and not to leave unpunished the wearing of Nazi symbols.
This act of fraternization with the SS should not go unpunished. Here we are talking not only about dislike for Russia. This is a spit, first of all, towards Europe. He was allowed to visit, and he climbed out onto the table with his boots.
- said Kozenko in an interview with reporters
RIA News
.
Justifying the paratrooper looks rather pathetic. Firstly, the question arises as to what charter the Ukrainian paratrooper is allowed to carry Nazi or "pirate" symbols. Secondly, the current Ukrainian regime has proved its adherence to Nazi ideology from the very beginning of its rise to power, and this year it also turned out to be pirate, judging by the actions in the Black and Azov Seas.