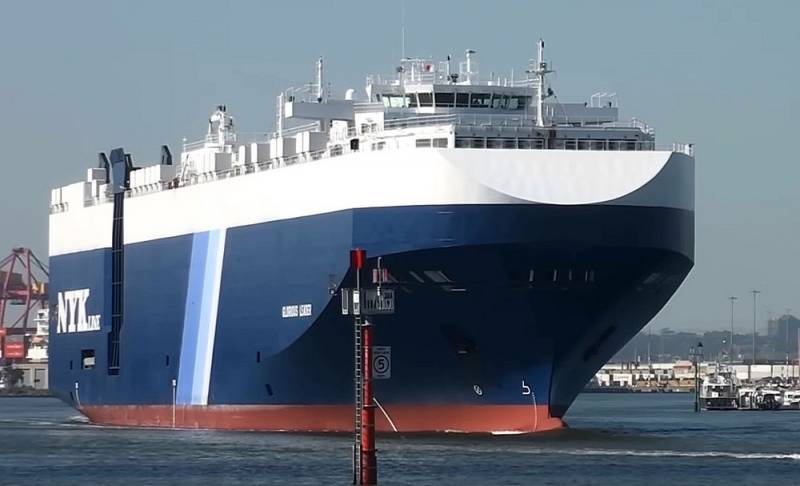 The operational situation in the Middle East continues to deteriorate. It has been reported that Yemen's Houthis have hijacked a merchant ship in the Red Sea in an outrageous act of piracy.
According to Saudi Arabian media, pro-Iranian Houthis infiltrated the Israeli ro-ro Galaxy Leader, which was flying the flag of the Bahamas. There were 22 crew members on board the merchant ship, which was moving off the coast of Saudi Arabia.
According to monitoring resources, the seized ro-ro belongs to the Ray Shipping company of Israeli businessman Rami Unger. However, this ship has long been leased to a Japanese company and there are no Israelis on board, since all crew members are Japanese citizens.
Note that the Houthis previously announced their readiness to seize and sink any ships in the Red Sea and the Bab al-Mandeb Strait associated with Israel because of what is happening in the Gaza Strip. They say that in war all means are good, but this is only in words, since if you are not able to withstand the "answer", then it is better not to rant on such topics.
Reviewing the current problems, it is worth noting that at least 10% of world trade is carried out through the mentioned shipping arteries, and this is hundreds of billions of dollars. For that kind of money, Yemen can not only be bombed, but lowered into the state of the Stone Age. Therefore, it is time for the pro-Iranian Houthi leadership to stop abusing the process of carefully and copiously chewing the drug khat - the leaves of a local evergreen stimulant shrub, the leaves of which contain cathinone - a chemical substance similar in effect to amphetamines, because ordinary residents of the country will pay for their actions.