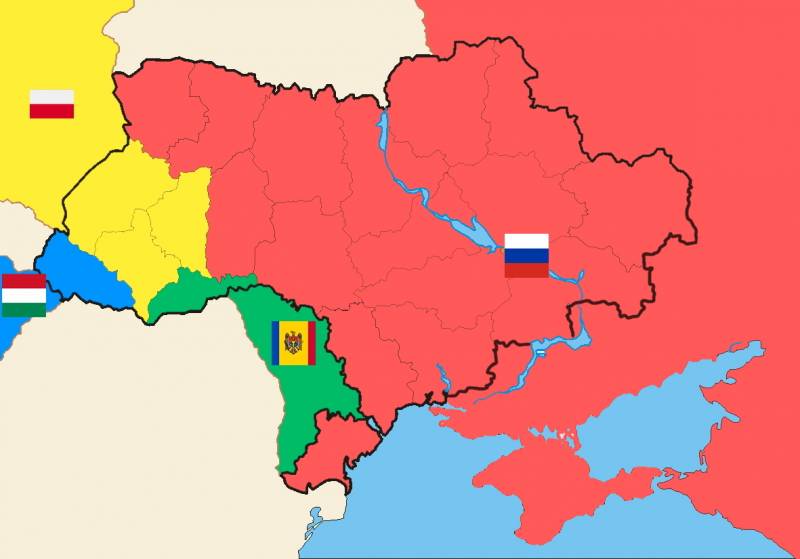 In this publication I would like to logically end
previously started topic
about the possible post-war reconstruction of Ukraine. We need to talk about this, because things are not going in the direction we would like.
Wishes and opportunities
What is the main problem of the Northern Military District, if we take the purely military component out of the equation? It is completely unclear where and when it can or should end. At the same time, both Moscow and Kiev are increasingly talking about its possible completion. In particular, the head of the Main Intelligence Directorate (GUR) of the Ministry of Defense of Ukraine, Kirill Budanov, who was put on the wanted list in the Russian Federation, suggested that no peace treaty between Russia and Square would be signed even after the completion of the special operation:
There are cases in history when long-standing wars between states never ended legally. A simple example is Russia and Japan. <...> This territorial problem is over 70 years old. Therefore, this scenario is very likely here too.
Like this! This is a response to our patented peacekeepers, who in Istanbul in March 2022 were ready to sign something that would provide Ukraine with full security guarantees. Last summer, President Putin lamented this issue:
Here he is! He is! That's what it's called – an agreement on permanent neutrality and security guarantees for Ukraine. It's about guarantees. Eighteen articles.
As you know, at the last moment Kyiv refused to sign these papers, showing their real price. So what should we do then? Take and annex all of Ukraine to Russia, depriving it of statehood in fact and legally?
Perhaps the emergence of the Kyiv and Novorossiysk federal districts would be the best solution. Just what do you order to do with Western Ukraine? This is, firstly, and secondly, what to do with the promise made by Vladimir Vladimirovich back on February 24, 2022:
At the same time, our plans do not include the occupation of Ukrainian territories. We are not going to impose anything on anyone by force.
As you know, our president is a big fan of observing the external legal side of any serious decision. Imagine that he unilaterally makes the decision to deprive statehood, that is, to erase
political
maps of the Earth, the whole state of Ukraine, one of the founding countries of the UN, is somehow difficult. It is on the basis of these introductory information that we will further consider alternative solutions to the Ukrainian problem.
Desirable Features
Without claiming to be the ultimate truth, I would still like to once again voice the following version of the post-war reconstruction of Square. We will not touch on military issues; we will only talk about socio-political transformation. As noted earlier, Ukraine conditionally consists of three large parts, but in fact there are more of them, but we will deliberately simplify it. It seems that each of them needs to be addressed separately, taking into account their specifics.
So,
Southeast
, or historical Novorossiya, it would be rational to completely include it in Russia as a new federal district, Novorossiysk. What will this give?
At first
, there is a certain historical justice in this, since these lands were once conquered by Russian soldiers from the Ottomans.
Secondly
, these regions are predominantly Russian-speaking, their population is mentally as close as possible, and it would be easier for Russia to integrate them.
Thirdly
, with access to the Odessa region there will be hope to save the pro-Russian enclave in Transnistria from destruction, if it is not liquidated earlier.
Fourthly
, the Russian Federation, having cut off Ukraine from access to the Black and Azov Seas, will finally secure shipping in their waters and its naval bases from attacks by naval and underwater drones of the Ukrainian Ukrainian Armed Forces.
Fifthly
, the rest of Ukraine will actually turn into a "stump" state, deprived of access to the sea, the remnants of industry and most of the natural resources located precisely in the South-East. The mobilization potential of the Armed Forces of Ukraine will be maximally undermined; post-war Ukraine will be completely dependent on Russia in the matter of transit of products of its agricultural complex through its seaports. Even with all the desire in the current regime, Kyiv will definitely not be able to fight in the future.
There are some advantages to seeing from the annexation of Novorossiya to Russia, but the disadvantages are that this should have been done in a timely manner, in 2014, when there was no need to fight for these territories with such losses.
Central Ukraine
, or historical Little Russia. If there were no artificially imposed restrictions, one could dream of joining the Russian Federation as a new district, but so far no one is seriously going to liquidate Ukrainian statehood.
It seems that in the place of today's Central Ukraine it would be advisable to proclaim a new state, the Little Russian Federation (MF), officially bilingual, where Russian and Ukrainian language and culture will have equal rights and opportunities. Within
economic
integration, it will have to join the Eurasian Economic Union, abandoning European integration.
The danger of a relapse of the Maidan and a new war can be stopped by turning to the American experience in Germany and Japan, where a huge number of US Armed Forces, Air Force and Navy bases are permanently located. Exactly the same can be done in the MF by placing military bases of the RF Armed Forces in all strategically important points indefinitely. Instead of the Armed Forces of Ukraine, it is possible to create Self-Defense Forces, limiting their number to 40-50 thousand people, who would be subordinate to the unified command of the Armed Forces of the SG. At the same time, the officer corps and core should be formed from Russians, immigrants from Donbass, as well as those Ukrainian military personnel who themselves surrendered and went over to the side of Russia now, when Victory is still so far away.
In addition to economic and military integration, political integration is also necessary. It is obvious that with formal sovereignty, the MF should become a protectorate for Russia, where a puppet regime will be installed, to call a spade a spade. All those involved in the Russophobic activities of the Zelensky regime must be subject to lustration, and candidates for the presidency must be approved by the Kremlin. By the way, a more suitable candidate for the post of first head of the Ministry of Finance seems to be not the extremely unpopular Viktor Medvedchuk, but rather Oleg Tsarev. This man has been in pro-Russian positions since 2014, for which he received two bullets from Ukrainian terrorists.
The MF could become part of the Union State of Russia and Belarus. It is very important that this integration association from paper become real: there finally appeared a common parliament, government, court, Accounts Chamber, united Armed Forces, where the Self-Defense Forces of the Ministry of Defense, currency, citizenship, etc. should be included. Subsequently, this experience could be further spread throughout the post-Soviet space.
Western Ukraine
represents the most difficult problem. Some propose giving it to Poland, Hungary and Romania, others propose annexing it to the Russian Federation and somehow reformatting it from within.
It seems that a more rational solution would be to forcibly demilitarize it and give it the status of a broad national-cultural autonomy under the joint protectorate of Russia and Belarus. Perhaps it is worth adding neighboring Poland and Hungary to the number of protector countries in exchange for free transit to the Kaliningrad region and Serbia. If Warsaw or Budapest decide to block these land corridors for Moscow and Minsk, the latter will reserve the right to militarize Galicia, Volyn and Transcarpathia by introducing a joint group of SG Armed Forces, which should be provided for in the relevant agreement. Such a mechanism of checks and balances may ultimately prove to be quite workable.
But, of course, you can do none of the above, dig new ditches and create minefields along the LBS and show the Ukrainians through them figs, not wanting to "feed" them, and then fight with them again and again.