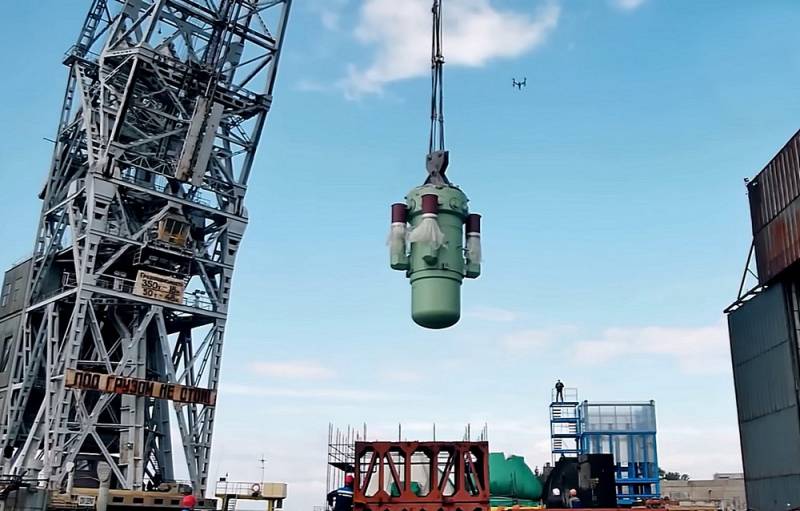 The ZiO Podolsk machine-building plant has shipped the first RITM-200 nuclear reactor for the project 22220 nuclear icebreaker "Chukotka" under construction.
At the moment, our country already operates three such icebreakers, two more are under construction, and two are being prepared for laying down. Moreover, the "heart" of all these ships is the RITM-200 nuclear reactor, developed at the Afrikantov Design Bureau at the end of the XNUMXs.
The RITM-40 reactors, which replaced the Soviet predecessors KLT-200, turned out to be 25 MW more powerful, twice lighter and 1,5 times more compact. Actually, this determined the further evolution of the development of the unit, which in the near future should "come out from the sea to land."
It is worth noting that the power plant has almost passed the intermediate stage on this path.
In 2019, our country built the Akademik Lomonosov floating thermal power plant, which is already operating in Chukotka. It uses KLT-40S reactors.
Meanwhile, Rosatom is considering the construction of an additional floating thermal power plant for Chukotka, but based on RITM-200 reactors. In addition, 4 modernized units are currently under construction, which means that a total of five floating thermal power plants based on the above-mentioned reactor can be launched in the next 5 years.
However, this is not "landfall" yet. But the latter will also take place in the foreseeable future.
In Yakutia, in the Ust-Yansky region, preparations are underway for a construction site where a low-power nuclear power plant (LNP) will be built based on RITM-200N reactors built in a ground-based design.
Let us remind you that 60% of the territory of this region is located in the zone of decentralized energy supply. There are 143 diesel power plants here, which annually import about 75 thousand tons of diesel fuel worth about 7 billion rubles.
In turn, nuclear fuel at the new nuclear power plant will be refueled once every five years.
In addition to providing electricity to the population of Yakutia, the station will allow the development of new deposits, and will also become the heart of one of the largest mineral resource centers in the Russian Federation.
It is worth adding that the PRC, USA, Japan and South Korea are already working hard on SNMM projects. However, thanks to the presence of the RITM-200 reactor, Russia can become the first country in the world that will be able to build and put into operation such a facility.