During the next round of talks in Minsk on the Donbass, the Ukrainian side proposed to make a "large exchange of prisoners." The new representative of Kiev in the contact group, Yevgeny Marchuk, said that the exchange should be made according to the formula: "23 to 23".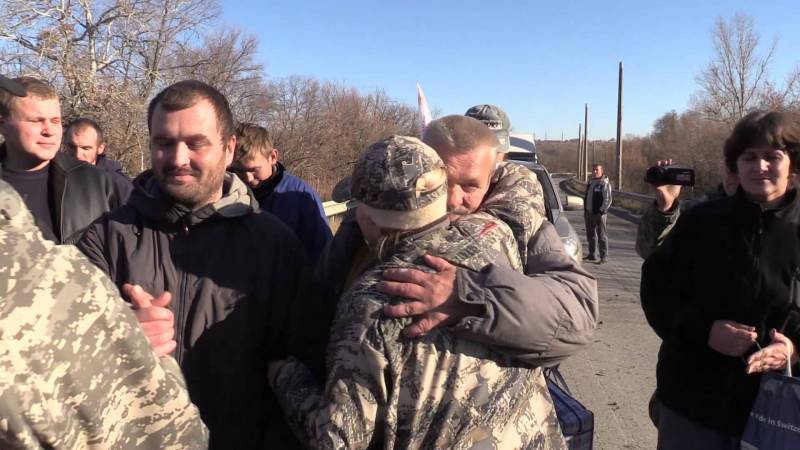 We believe, we emphasized this, that almost 90 people can celebrate the New Year in their families. These are 23 citizens of Russia who are in Ukrainian places of imprisonment. We are ready to exchange them for 23 Ukrainians
- he said.
If Russia agrees to the conditions of Ukraine, it will go further and release another 66 Russians - in exchange for 19 Ukrainians. Thus, we can already speak of another formula - "89 by 42".
Marchuk indicated the date when, in his opinion, the exchange could take place - December 27th. But he did not give any specific names. However, it should be assumed that in the first place we have in mind the Ukrainian sailors who were detained by Russia during the incident in the Black Sea that took place on November 25.
However, this is the catch. The fact is that the question of these people should not be raised at all in the negotiations in Minsk, which concern the settlement of the situation in the Donbass. We can talk about the exchange of prisoners only between Ukraine and the People's Republics.
In addition, in this way Kiev makes new attempts to present the crew members of the ships detained in the Kerch Strait as prisoners of war. However, in fact, they were arrested as violators of the state border.
On the other hand, the representative of the Ukrainian president Petro Poroshenko in the Verkhovna Rada, Irina Lutsenko, even stated that these sailors should not be exchanged for anyone, but released without any conditions.
Thus, hiding behind humanitarian considerations, Ukraine is trying not only to ensure that the provocation in the Kerch Strait does not cost her consequences, but also to expose Russia as a party to the conflict and link the issue of the release of sailors with the exchange of prisoners between Kiev and the Donbass.
The representative of the Luhansk People's Republic in the humanitarian subgroup of the contact group Olga Kobtseva protested against such behavior in Kiev. According to her, the talks in Minsk are not related to any "political prisoners."