The well-known German politician, who worked for a long time as Prime Minister of the Saarland, and is currently Secretary General of the Christian Democratic Union (CDU), Annegret Kramp-Karrenbauer, made an important statement. It is especially relevant in light of the fact that Kramp-Karrenbauer is considered the most likely candidate for the post of chairman of the CDU, as Angela Merkel previously
reported
about his refusal to be re-elected to the post of head of the party in the intra-party elections in December 2018.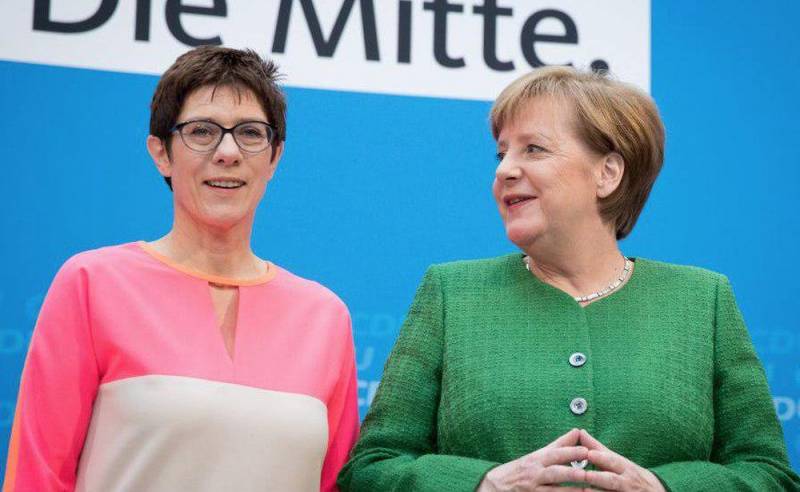 So, Kramp-Karrenbauer believes that the proposals to terminate the construction of the Nord Stream-2 gas pipeline are excessively cruel. She said this on the air of the ARD channel.
According to a respected and highly respected lady, the rejection of
political
supporting Nord Stream 2 is too drastic a measure. But Berlin may consider reducing some gas volumes that will be transported through this pipeline. She emphasized that Russia was a reliable gas supplier to Germany even in the midst of the Cold War.
It should be noted that according to the project for the construction of the Nord Stream 2 gas pipeline, it is planned to lay two strings with a total capacity of 55 billion cubic meters. m. gas per year. The pipeline will run across the Baltic Sea from the coast of Russia to Germany. Construction has already begun. It goes at a speed of three kilometers per day. And as of November 6, 2018, 200 kilometers have already been laid. The completion of the gas pipeline should happen at the end of 2019. In this regard, it is very doubtful that the incident in the Kerch Strait could affect the position of Germany in the gas transportation issue.