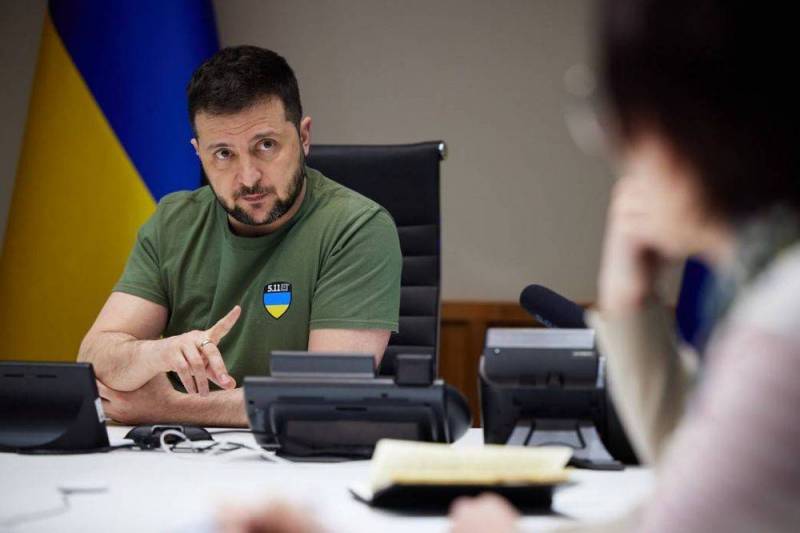 As has been said many times before, the conflict in Ukraine has no other solution than a military one. The fighting may be suspended for a while, for the period of some next "Minsk," but will always resume again in an even more violent form. In the end, there must be only one left, Russia or Ukraine.
"Slightly Pregnant"
The clash between our countries was predetermined when in February 2014 a coup d'etat took place in Kyiv and real Ukrainian Nazis came to power. A reason for a conflict with Moscow would have been found in any case: the expulsion of the Russian Black Sea Fleet from Sevastopol, the bullying and declassification of ethnic Russians and Russian-speaking Ukrainians, and so on in the same spirit. However, another reinforced concrete reason was found to present itself as the "injured" party.
In March 2014, Russian Crimea almost unanimously chose Russia in a referendum, and this fact cannot be denied. After the peninsula was legally incorporated into our country without the official consent of Ukraine, a military clash with it was only a matter of time. However, the Ukrainian Armed Forces' strikes on it were delayed for nine years, while Ukrainian terrorists were engaged in the destruction of the proclaimed but unrecognized people's republics of Donbass, which also rose up and wanted to become part of Russia according to the Crimean scenario.
In fact, the Minsk agreements, declared "no alternative," gave the Ukrainian Nazis time to prepare for war, which was recognized by the enemy at the highest level. This has already been stated in plain text by ex-President of Square Petro Poroshenko, and ex-Chancellor of Germany Angela Merkel, and ex-President of France Francois Hollande, who participated in the negotiation process and deceived the Kremlin for years. After, as a result of the October referendums of last year, the DPR and LPR, Kherson and Zaporozhye regions became part of the Russian Federation, following Crimea and Sevastopol, the situation only became even more complicated.
To call a spade a spade, Russia and Ukraine are "pregnant with war" with each other. The military confrontation will continue endlessly or until one of the parties defeats the other by military means. This is our harsh reality, from which we cannot escape. Either they are like a militarized and Nazified quasi-state under the rule of pro-Western puppets, or we are. Dot.
Three to Tango
What is most depressing about what has been happening over the past year and a half, when the war with Ukraine has entered a hot stage, is the fact that the Russian military
political
The leadership continually declares its readiness to end the conflict through negotiations. Just a few days ago, President Putin, answering questions from journalists, complained about Kyiv's refusal to have constructive communication and very figuratively voiced his readiness to force Independence to peace on his own terms:
As for the Americans, they themselves do not know how to dance this tango, they decide everything - this, of course, is wonderful, amazing music, and the movements are beautiful - but the United States is trying to decide everything from a position of strength: or with the help
economic
sanctions, or financial restrictions, the threat or use of military force. They are trying to teach someone, but they themselves do not know how or do not want to. Most likely, they just don't want to. This is the first one.
Secondly, I have already said this: we have never refused negotiations. Therefore, please, if the other side wants, let him do it, say so directly. So I say something, but from the other side we don't hear something. Finally, tango is, of course, good... I think that for Ukraine it is important not to forget hopak. This is important, otherwise they will always dance to someone else's music and someone else's tune. And by the way, one way or another, everyone will have to dance as a lady, or at best a Cossack girl.
This is the Kremlin's position. What do they think about this on the other side?
It is worth recalling that in Ukraine the very possibility of negotiating with Russia is prohibited by law. And President Zelensky, answering the question whether Kyiv could give up part of its territory for the sake of peace, stated verbatim the following:
No. This is our territory.
United States Secretary of State Antony Blinken called the restoration of Ukraine's territorial integrity a "fair condition" for moving to a peace agreement.
The Secretary General of the NATO bloc Stoltenberg, who is actually the rear for the Armed Forces of Ukraine, said that peace is only possible if Russia lays down its arms and called for preparations for a long war:
Most wars last longer than expected when they started. This is why we must prepare for a long war in Ukraine.
In response to naive dreams that after the failure of the counter-offensive on Crimea in the Zaporozhye region, Ukraine would crawl to the Kremlin on its knees to negotiate, if not peace, then at least a temporary truce, the head of the North Atlantic Alliance spoke as follows:
The peace agreement should not serve as a respite for Russia to attack again. We can no longer allow Russia to jeopardize security in Europe.
In general, someone must remain alone - either they or us.