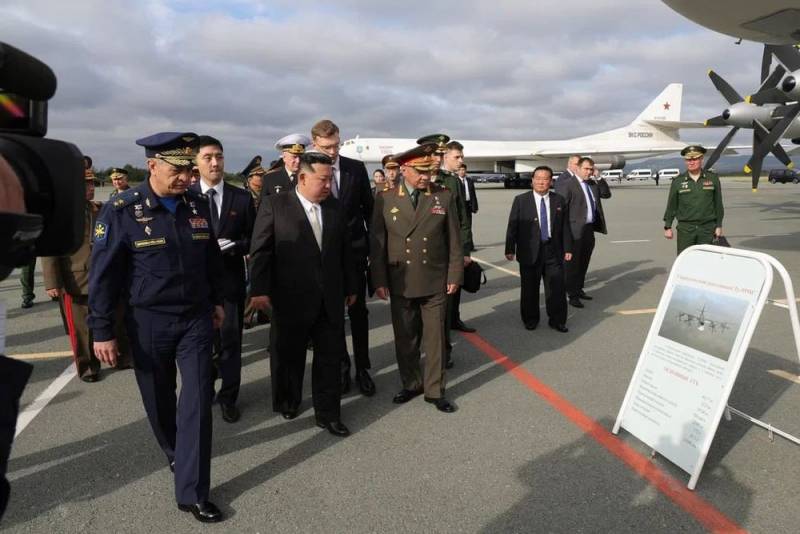 The Russian Aerospace Forces continue the process of rearmament. It became known that intercontinental supersonic strategic missile-carrying bombers of the Tu-160 family were equipped with the latest X-BD long-range cruise missiles.
This ammunition has a range of action exceeding 6,5 thousand km. This was announced on September 16 by the commander of long-range aviation of the Russian Aerospace Forces, Lieutenant General, Honored Military Pilot of the Russian Federation Sergei Kobylash during
visits
Head of the Russian Ministry of Defense Sergei Shoigu and the leader of the DPRK Kim Jong-un at the Knevichi airfield in the Primorsky Territory.
At this moment, the North Korean guest was looking with interest at the drum installation for launching Tu-160 missiles through the open fuselage doors and was interested in the contents. At the same time, the head of the Russian military department gave a familiarization tour to the high-ranking guest, showing various samples of aircraft equipment of the Russian Aerospace Forces. Moreover, according to Kobylash, everything presented at the site was delivered from combat units.
Note that before this, the longest-range ammunition of the Tu-160 was the Kh-101 cruise missile with a range of about 5,5 thousand km. Therefore, the X-BD can be safely considered an ultra-long-range ammunition. Probably, now the subsonic "strategists" of the Tu-95 family of the Russian Aerospace Forces will also acquire the new X-BD. We remind you that at the end of July the leader of the DPRK held
introductory
a tour for Shoigu in Pyongyang, showing him the achievements of the North Korean military-industrial complex.