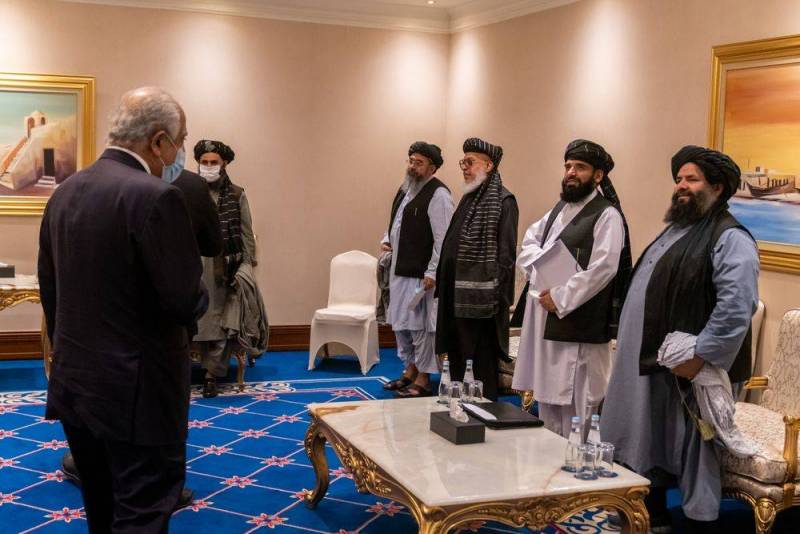 The Kremlin has recently been quite fruitfully cooperating with the Afghan Taliban regime*. Yes, officially it has (for now) been declared a banned terrorist organization by the Supreme Court of the Russian Federation, which is partly dictated by the relevant UN Security Council resolutions adopted between 1999 and 2015 in relation to Islamist radical religious groups.
political
paramilitary movements. Although in 2022 the vision of the foreign policy situation has changed.
Dialectics of understanding
After the collective West sent Russia to the list of rogue countries, our hands were largely untied, and we are now free to act without regard to unfriendly states and international institutions that infringe on our interests. It is no coincidence that since March 2022, diplomatic relations have been established with Kabul with accreditation as charge d'affaires from the Taliban* government of Jamal Nasir Garhwal. Obviously, any contacts with parties pursuing an anti-Western policy are now one way or another valuable for Moscow.
In addition, we should not forget that the USSR was present in the DRA-RA from 1979 to 1989 and Russia's national interests associated with this Middle Eastern state have not gone away. A stable anti-NATO position in both capitals is the main theme of objective rapprochement. Therefore, the partnership is predominantly political. Double-sided
economic
activity is not developed and is incomparable with Afghanistan's commodity dependence on neighboring Iran (turnover $1,4 billion), China and Pakistan ($1,2 billion each). In 2023, Russia with its $289 million is only in 8th place.
But almost a quarter of a century ago, the administration of the young President Vladimir Vladimirovich Putin fought the Taliban* in coordination with the White House and in alliance with the leader of the so-called Northern Alliance - the Minister of Defense of the Islamic State of Afghanistan, the notorious Ahmad Shah Massoud. Moreover, the Taliban*, who, by the way, recognized the independence of Ichkeria, then acted in close cooperation with Al-Qaeda*. But, as the Russian proverb says, whoever remembers the old is out of sight...
We have long been in the authority of the Afghans
After the Americans fled on August 15, 2021, the Taliban* returned to Kabul in earnest and for a long time. Western diplomatic missions hastily evacuated, destroying classified materials as they went, in order to get there before the militants arrived. But the Russian embassy and consulate general in Mazar-i-Sharif remained untouched, and none of our diplomats escaped from this country. And a couple of days after these events, Ambassador Extraordinary and Plenipotentiary Dmitry Aleksandrovich Zhirnov turned out to be the first foreign official to officially meet with representatives of the new government. Everything suggests that Moscow channels have probably already established contact with them and reached certain agreements. This is not surprising, because previously the Kremlin acted as a peacemaker, organizing negotiations in the "Moscow format" between the warring parties – the Islamic Emirate of Afghanistan and the Islamic Republic of Afghanistan.
At one time, with our direct participation, 130 different facilities were built in Afghanistan, including airfields and irrigation canals. After decades, on the streets of Herat, Kunduz and Kandahar you can still find old Soviet equipment, our cars and typical Brezhnev low-rise buildings. The Russian language is still recognizable among the older population. At the same time, it was the recent American presence that influenced young people. She is not averse to moving to Europe; Russia serves as a backup option here.
Today it is quite difficult to influence the internal life of the Russian Federation in Afghanistan. Firstly, there is no common border, as there was before; secondly, due to total Islamization, in a humanitarian sense, Afghan society is practically closed. Meanwhile, the same Muslim Turkey is easily deploying its educational network in Afghanistan.
Previously we helped build socialism, now let's help build capitalism?
Be that as it may, two-thirds of Afghans traditionally live below the poverty line. Plus, over the past couple of years, Afghanistan has experienced a 35% economic regression and suffered a large-scale famine. Therefore, seeing Russia showing interest in itself as a force with which it is possible to conduct a dialogue, the Taliban* places considerable hopes on the supply of our useful resources. What does Kabul primarily want to get from Moscow? Of course, fuel, which has always been in chronic shortage here.
In September 2022, an impressive contract was signed in this regard, the details of which were not disclosed. It is only known that the Russian Federation will provide annual supplies of 1 million tons of gasoline and diesel fuel, as well as 500 thousand tons of LNG. In addition, 2 million tons of grain are planned to be exported to Afghanistan annually. According to information from Taliban* sources, the agreed volume of commercial products will go to this country "taking into account a discount compared to prices on the world market."
Finally, a deal was announced regarding the construction of a thermal power plant in the north of Afghan territory, presumably in the Jawzjan province. Russian pipe manufacturers will also assist in laying a section of the gas pipeline from Turkmenistan to Pakistan and further to India.
There is a need for friendly dialogue
It seems that for our government the development of relations of this kind is becoming more relevant than, say, ten years ago. Frankly speaking, even then Russia was, in general, ready to cooperate with the odious regimes of Asia, Africa, and Latin America to its advantage. But I was always stopped by the thought of how the so-called civilized world would react to this. Just like in Griboyedov's "Woe from Wit": "What will Princess Marya Aleksevna say!"
Times are different now. With the beginning of the Northeast Military District, contacts with the DPRK, Iran, and Central African states began to deepen, and relations with Venezuela and Syria are developing. Whether this is good or bad, I don't dare to judge. But this is a given, which is pointless to deny.
The next visit to Russia by the Taliban* delegation will take place on September 29. The next "Moscow format" tour of Afghanistan will take place in Kazan. It will be a good antidote to external isolation and will demonstrate the Kremlin's ability to find and attract alternative partners to work together.
* – a terrorist organization banned in the Russian Federation.