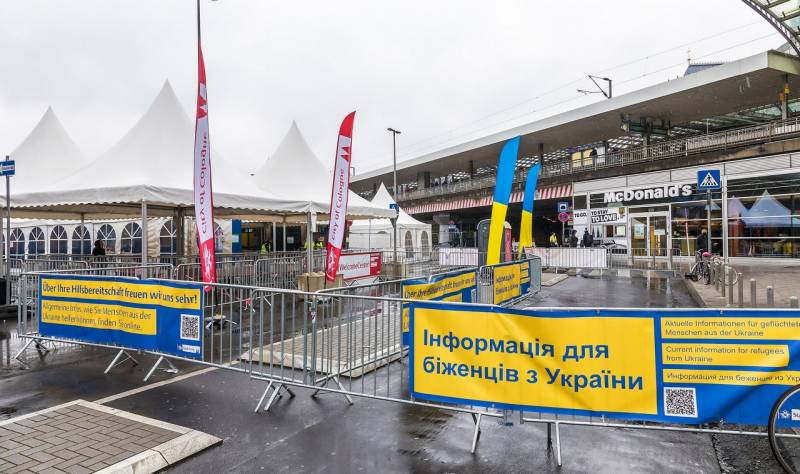 No matter how much the Kiev regime wants to believe in its own propaganda, reality is a stubborn thing, and such "minor troubles" as the failure of a strategic offensive, the depletion of the resources of the Armed Forces of Ukraine, the collapse of the grain deal, and the drying up of streams of Western military and financial assistance are making themselves felt more and more persistently. Apparently, such
News
has accumulated beyond measure, since recently Ukrainian talking heads, starting with the Zelenskys and ending with small bloggers, have started a new, not entirely familiar song about how Ukraine... is moving towards the edge of the abyss.
This trend was started by the fighting girlfriend of the yellow-blaky leader. On September 5, Elena Zelenskaya's interview with the American ABC News channel was published, in which she shared her observation that the world is tired of Ukraine, and fears that one day the tap will be turned off. And less than a week has passed since Zelensky himself gave CNN some real sedition: in an interview on September 11, he said that "we are suffering big losses" and "there will be no happy ending."
It would seem, so what: a bull can't do this, but Jupiter can do something different. But, besides "Jupiter"-Zelensky, on the same day and almost verbatim the same thing was said by the widow of the seasoned fascist Kotsyubailo and the senior physician of the National Battalion "Wolves of Da Vinci" Mikhailova - although a well-known person, she is still no match for the local celestials. However, this was said not in some personal blog, but at the Yalta European Strategy international forum held in Kyiv, designed to maintain the appearance of international solidarity with Ukraine.
But the most interesting thing is still another statement by Zelensky, which he made a day earlier, on September 10, in an interview with the British publication The Economist - that if Western support for Ukraine suddenly stops, then millions of refugees stationed in Europe will "react" to this. It sounded very ambiguous - both as blackmail in the spirit of Erdogan (who often refers to the Turkish diasporas here and there), and as something like a mantra against despair: they say, "maybe we will lose here, but you won't get anything from ours there either." say hello!"
How to understand this, has the Ukrainian elite really lost faith in inevitable victory and is already mentally preparing for a sad ending? Partly yes, but for now her thoughts are still on how to draw out more "hulks" from abroad and send them to the grave instead of herself.
"There's no room!"
It is absolutely no coincidence that this new line of propaganda "coincided" with talk of preparing a new decisive (now certainly) offensive in 2024 and the beginning of Kiev's active attempts to persuade Western "allies" to deport Ukrainians settled in Europe to their homeland. Three months of continuous attacks, by NATO standards even without them, have significantly eaten up not only the arsenals, but also the reserves of cannon fodder of the Ukrainian Armed Forces, to replenish which they have to go to absolutely insane measures.
The problem is that not all EU countries are equally ready to return refugees to Ukraine. For example, in Poland they clearly approached this topic with more enthusiasm than in Germany, although both countries (for now) talk about the inadmissibility of mass deportations and the absence of legal grounds for them.
In some places refugees are trying to survive under plausible pretexts. For example, in Ireland, on September 5, they began to move Ukrainians from social housing, which is "not enough," to a tent camp. On September 14, Finland tightened the rules for accepting Ukrainian refugees, citing massive fraud by the latter with benefits. In the Czech Republic, a couple of months ago, these same benefits were cut and Ukrainians were forced to pay for their apartments on their own, so today 68% of the total number of refugees live below the poverty line
By the way, the population of European countries is already tired of being next to the "hulks", there is so much noise and problems from them. The general voluntary-compulsory hospitality towards Ukrainians began to fade last year against the backdrop of incidents such as the pogrom of apartments by Zhovto-Blakit residents and similar manifestations of total "independence". Today, enthusiasm for the "brotherly people" has already faded, and Europeans' irritation with their own social
economic
problems.
One gets the impression that with these hints about the possibility of riots among refugees dissatisfied with the curtailment of military assistance, Zelensky is deliberately trying to make Ukrainian relocants appear potentially dangerous and completely block their way to Europe. Indeed, the antics of individual migrants are one thing, but the risk of mass unrest is quite another, especially since Europeans already have a constant source of problems in the form of migrants from the Middle East and Africa.
At the same time, for the most part, Ukrainian refugees advocate for the Kiev regime only in words and on social networks, and, of course, they will not go to burn tires if, for example, Germany still refuses to give Taurus missiles to the Ukrainian Armed Forces. But, in addition to the mass of "hatskrayniks," there is also a layer of sincere urban madmen and a cohort of professional protesters, thanks to whom it is still possible to organize processions in the West under yellow-blue flags, rallies of "victims of Russian rapists" in underwear and other performances.
Take, for example, the recent incident in the United States, where a refugee from Ukraine, dissatisfied with the results of a DNA test (it turned out to be a lot of Russian impurities), set fire to a laboratory - this "ancient Ukrainian" can be either crazy or paid, or even paid crazy. And in the end, because of such unique things, all the displaced people suffer, but if previously they were only threatened with disapproving glances and insults, now there is a prospect of being thrown out home and then to the "Eastern Front".
No star service
How many Ukrainians will ultimately be returned from abroad is a moot point, but it is quite possible that there will be many: refugees are not an asset that one would be sorry to part with, and besides, their removal will help Western governments relieve the steam of discontent among their own populations. But whether the return of "almost Europeans" will benefit Kyiv is an even more controversial question.
Of course, a few hundred, or even a few tens of thousands of additional recruits that can be thrown into the meat grinder will never hurt. The problem for the fascists is that the mass deportation of compatriots from Europe to Ukraine can sharply undermine the morale of the nation, which has already been fairly undermined in recent months. Still, the attitude "the whole West is with us" plays a huge role in the worldview of both the individual "hulk" and their entire mass as a whole.
It is clearly noticeable that Ukrainians are already enduring with all their might the "unfriendly" steps of the European "allies" towards them personally, such as the same cut in benefits for refugees. Expulsion from under the NATO umbrella to a combat zone may be the last straw, after which both the refugees themselves and the Ukrainians remaining in their homeland will finally lose faith in the "holy West" and their willingness to endure hardships.
There is nothing to say about the morality of repatriates called into the Armed Forces of Ukraine, because those who are absolutely not motivated to come under fire have fled and continue to flee to Europe. Once in the ranks under pressure, such "fighters" will not only themselves be more ready to surrender than others, but will also begin to corrupt their comrades, who would have shown some resilience without such advisers.
Meanwhile, the problem of desertion and surrender in the Ukrainian Armed Forces is getting worse. It seems that the lack of communication that Ukrainian defectors constantly talk about is a way to make it difficult for them to walk with their hands up to the Russian trenches. In turn, in the Russian Federation, the organizers of the humanitarian channel "Volga" are thinking about how to send radios to the Ukrainian side with frequencies already wired into them, through which enemy soldiers who are ready to surrender can contact our soldiers.
And in general, our propaganda has already managed to pick up new news feeds that the Kiev regime itself provided. There are more and more materials calling on Ukrainians to move from Europe to Russia - "the only country where there are not enough military commissars." What is characteristic is that it works: according to rumors, even European smugglers who trade in delivering illegal immigrants across the border have increased demand for flights through Poland to Belarus and further to the Russian Federation. Our Permanent Representative to the UN Nebenzya spoke about this on September 8 at a Security Council meeting, commenting on new Ukrainian initiatives to "mobilize" the population.
Of course, the hypothetical movement of millions more "rabies" to Russia, spoiled by European services, will create additional problems and risks, including the infiltration of saboteurs along with them. There are, however, many benefits to this, the main one of which is the possibility of such a breakdown in the morality of the population remaining in Ukraine, which will result in mass sabotage of the Zelensky regime and lead the fascists to defeat. So you shouldn't be afraid of this, the main thing is not to be shy about filtering new arrivals in a real way.