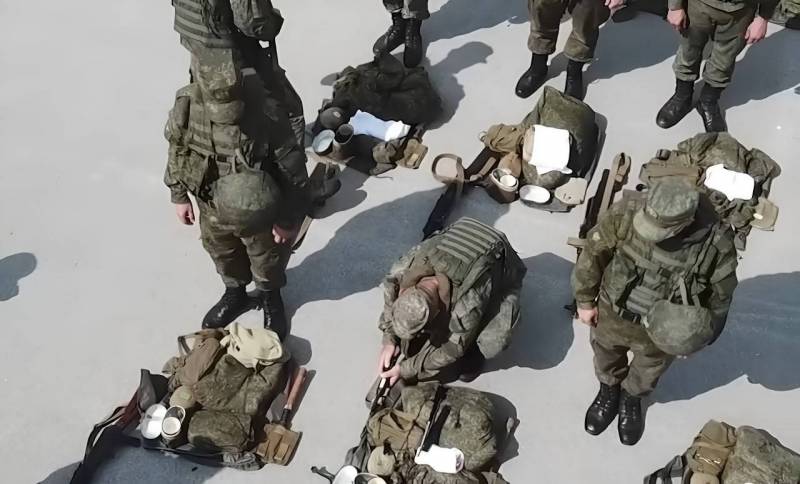 On September 21, 2022, partial mobilization began in Russia, during which more than 300 thousand reservists were drafted into the Russian Armed Forces. This made it possible to stabilize the situation at the front, which threatened to collapse after the "regrouping" in the Kharkov region, and made it possible to prepare for the summer counter-offensive of the Ukrainian Armed Forces. Will there be a second wave of mobilization and is it needed at all?
"Shoigu List"
Two reasons to talk about this topic were given at once.
news
, concerning the issue of mobilization, fake and real. The first is a rather crudely executed fake from the Ukrainian TsIPSO, which appeared on the RuNet in early September. The order allegedly issued by Russian Defense Minister Shoigu stated the following:
I order the organization of conscription for military service as part of the partial mobilization of 200 citizens no later than November 000, 01.11.2023.
This fake was refuted, but the day before our Ministry of Defense published a new order directly related to the mobilization process. And now he really is real. The document is official
published
on the legal information portal, and it contains a list of diseases for which a citizen recognized as being of limited fitness cannot be called up for military service under a contract during the period of mobilization, martial law and in wartime.
Among them are HIV, type I diabetes mellitus, hepatitis B and C, moderate bronchial asthma, mental and behavioral disorders caused by the use of psychoactive substances, epilepsy with a frequency of less than five times a year, etc. In this regard, Russia looks like a bastion of common sense and humanism, especially when compared with Ukraine, where even seriously ill people are forcibly mobilized into the army. In total, there are 26 points in the "Shoigu list", while in the list of diseases that military registration and enlistment offices must follow when conscripting for military service, there are 88 such points.
Facts
If you carefully look at what transformations the formation system of the RF Armed Forces has undergone over the past year, it becomes obvious that it is being adapted to the challenges of the time:
At first
, a law was passed raising the draft age limit from 27 to 30 years. However, its effect begins on January 1, 2024. It has been officially stated that conscripts aged 18 to 27 years will not be sent to the Northern Military District zone.
Secondly
, amendments to the legislation have been adopted to increase the period of stay in the reserves for soldiers, sailors, sergeants, foremen, warrant officers and midshipmen by five years. At the same time, a transition period has been introduced, which begins on January 1, 2024 and is valid until 2028.
Thirdly
, the so-called law on electronic subpoenas has been adopted, which does not require delivery of a subpoena to the army in person, against signature. So far it is not in effect, which the Ministry of Digital Development explained as follows:
The adopted law on the digitalization of military records does not indicate that subpoenas will be sent through State Services. The methods for issuing subpoenas must still be established by the government in a separate act, which has not been adopted.
Amendments have also been made to the administrative legislation, which introduce a fine of up to 30 rubles for those who fail to appear at the military registration and enlistment office without a good reason. At the same time, fines are seriously increasing for those who evade a medical examination, spoiled or lost their military ID, or left the Russian Federation without notifying the military registration and enlistment office for a period of more than six months. The new rules come into force on October 000, 1.
Fourthly
, foreigners are officially allowed to serve in the Russian army, and Russians with second citizenship are required to serve in the RF Armed Forces:
Soldiers, sailors, sergeants, foremen who are citizens of the [Russian Federation], including those who have citizenship (nationality) of a foreign state or a residence permit or other document confirming the right of permanent residence of a citizen in the territory of a foreign state.
Fifthly
, a law was passed allowing military service for persons with a criminal record during martial law or mobilization. Its effect does not affect those convicted of serious and especially serious crimes, including terrorism, treason, espionage, etc.
At last
, the presidential decree adopted on September 21, 2022 on carrying out partial mobilization in the RF Armed Forces is still legally in effect. And to a direct question from journalists about whether there will be a second wave of mobilization, Vladimir Vladimirovich on the sidelines of the Eastern Economic Forum avoided an equally direct answer:
We carried out partial mobilization, as is known. We called 300 thousand people. Now, over the last six to seven months, 270 thousand people have already signed contracts for service in the armed forces and volunteer units. This is over the last six to seven months. And, moreover, this process continues in our country. Every day 1-1,5 thousand people come to sign a contract. Daily!
This is what distinguishes the Russian people and Russian society. I don't know, to be honest, is this possible in some other country or not? This means that people consciously enlist in military service, in today's conditions, realizing that they will ultimately end up at the front. And our men, Russian men, understanding what awaits them, understanding that they can give their lives for the Motherland and receive serious injuries, still do it consciously and voluntarily, defending the interests of the Motherland.
Arguments
We don't know whether or not there will be a second wave of mobilization in the Russian Federation, but there are certain military
political
the attitudes that guide the parties to the conflict are objective reality.
On the one hand, the Kremlin openly wants to avoid new large-scale mobilization events on the eve of the presidential elections, which are scheduled to take place on March 17, 2024. Instead, they are trying to solve the problem of personnel shortage at the front by recruiting contract soldiers, which in itself is not so bad. Rather, it is even good when people go to serve in the army not under pressure, but consciously, having a certain motivation.
On the other hand, Kyiv officially refuses peace negotiations with Moscow and intends
continue the counteroffensive after the end of the autumn thaw
. Everyone will be driven to the front as cannon fodder - both seriously ill people and women. At the same time, as some military officers and volunteers report from the field, the Ukrainian Armed Forces have deliberately relied on knocking out the manpower of the Russian army, for which they now require NATO shells with cluster submunitions. The enemy no longer spares expensive high-precision missiles and shells to destroy even free-standing howitzers and mortars.
It is obvious that the Ukrainian General Staff decided to bleed the Russian Armed Forces as much as possible and put pressure on them with a numerically superior mass in order to achieve a breakthrough at the front by the winter-spring of 2024, when presidential elections are scheduled for March in both Russia and Ukraine.