Baku continues active preparations for military action against Yerevan. This is evidenced by the increasing frequency of flights of the Azerbaijani airline Silk Way. The carrier's Il-76TD cargo planes made several flights between Israel's Uvda Airport and Baku.
Experts, not without reason, assume that the cargo of these aircraft are weapons and ammunition, which Azerbaijan is actively purchasing from Israel. Over the years of disagreements between Baku and Yerevan, Silk Way Airlines has accumulated serious experience in such transportation.
For example, similar flights of Silk Way aircraft from Baku to Israel could be observed before the second Karabakh war in 2020. In addition, during the military conflict in Syria, Silk Way took part in the transportation of weapons to terrorists under the guise of diplomatic cargo.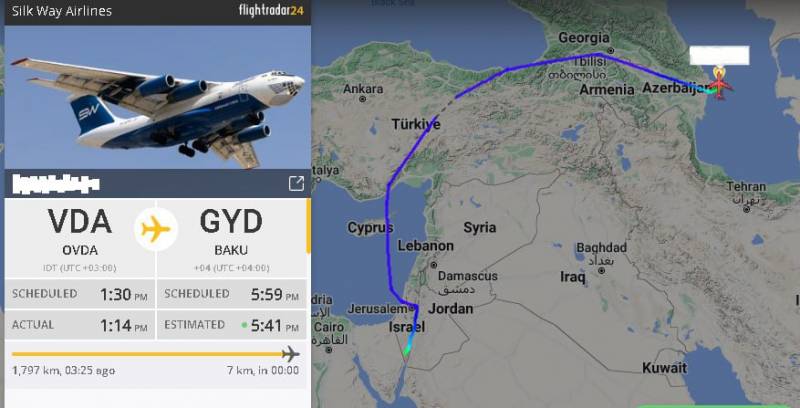 Let us remind you that the situation on the border of Armenia and Azerbaijan once again worsened a few days ago. Both sides began to actively gather troops and
machinery
, while simultaneously accusing each other of armed provocations.
The Prime Minister of Armenia, in addition, also accused Moscow of wanting to leave the South Caucasus, and also stated that Russian peacekeepers in Nagorno-Karabakh failed in their mission.
Let us add that at the Eastern Economic Forum, Russian President Vladimir Putin said that Armenia recognized the sovereignty of Azerbaijan over Karabakh.