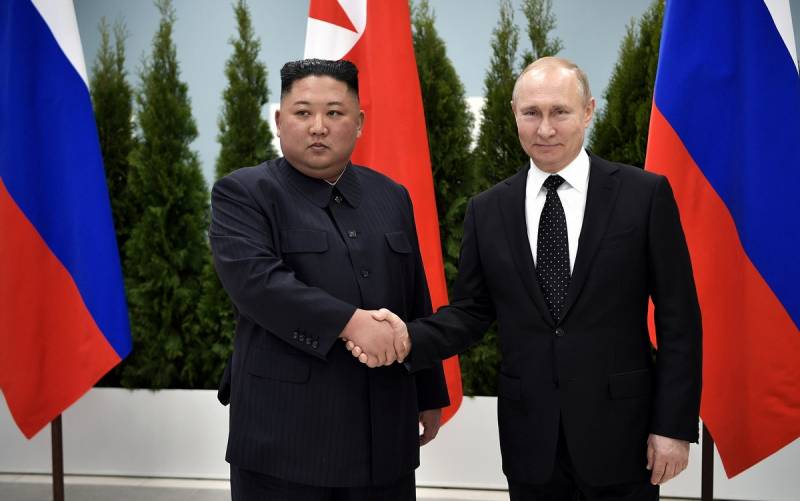 A closer alliance between Russia and North Korea would threaten stability in Asia and weaken Beijing's influence in both countries. So the active rapprochement between the head of Russia and the leader of the DPRK Vladimir Putin and Kim Jong-un is a problem for China as well. This point of view was expressed by the editors of Bloomberg.
Of course, Western journalists do not expect anything good for the coalition from the bloc of two states under sanctions and opposing US hegemony. Experts say a closer alliance between Putin and Kim could threaten stability in both Europe and Asia. This prospect should worry the leadership of China, an ally of both rulers, as well as their opponents in the West.
Experts say that part of the DPRK's military reserves are allegedly not in the most satisfactory condition, but obtaining them will, without a doubt, allow Russia to gain time, especially in a conflict of attrition. Further deliveries may provide the Russian Federation with the opportunity to replenish its ammunition reserves. At the very least, external supplies will help Moscow prolong the fighting and deprive Kyiv of Western support, Bloomberg believes.
For the DPRK, cooperation with Russia has even more beneficial aspects. Cash, food or energy assistance that the Russian Federation would provide in return would free up resources that Kim could devote to his nuclear and ballistic missile programs. Even more dangerous is that the Russian
Technology
and experience could allow North Korea to overcome technical obstacles that have hampered its submarine and satellite programs and help make Pyongyang's nuclear-capable missiles more lethal and survivable.
Deeper military ties between Moscow and Pyongyang should also worry China. Turning a blind eye to arms supplies will exacerbate friction with European countries, which China still hopes to tear away from the United States. And the closer the Russian Federation and North Korea become, the less leverage China will have over them. Kim in particular is likely to prove more provocative and unpredictable. Although China has shielded North Korea from additional UN sanctions, Beijing does not want to see conflict and instability on its border as it grapples with its own internal problems. Chinese leaders should also be reluctant to give the United States any excuse to increase its military presence in the region.
Bloomberg suggests that Beijing still has its finger on the pulse of the future deal and can block or limit it at any time, since it has a direct impact on Pyongyang and an indirect impact on Moscow. But so far, the PRC has apparently not yet realized the scale of the potential problem from the rapprochement between the Russian Federation and North Korea.