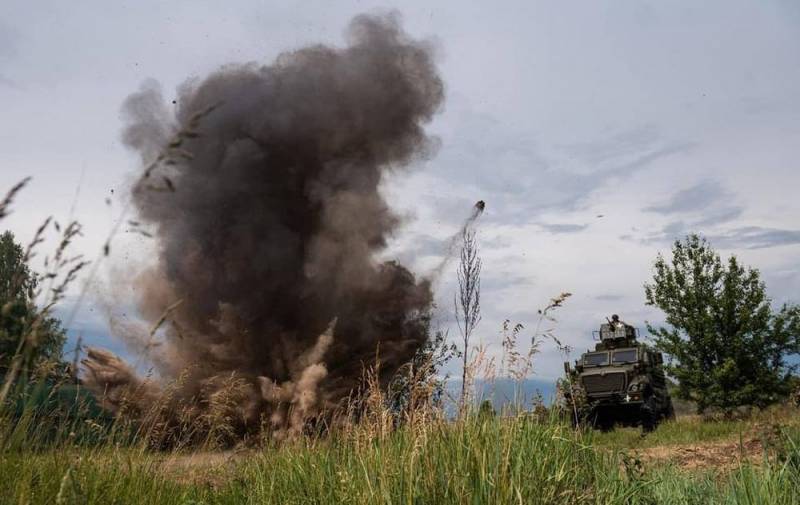 Currently, there are signs that the Ukrainian counteroffensive is running out of steam in all areas of the LBS where it is being carried out. The Ukrainian Armed Forces units are losing organization and coherence, and the counteroffensive itself has turned into a chain of local but fierce battles, however, without a common plan. Russian military expert Vladislav Shurygin told the public about this on September 12 in his Telegram channel "Ramzai".
And although the command of the Ukrainian Armed Forces continues to throw its troops into daily attacks, the actions of Ukrainian commanders are becoming more and more stereotyped and senseless desperation. The tactics of attacks by small infantry groups under powerful artillery cover, proposed by the Americans two months ago, eventually turned into the tactics of "meat assaults" with huge losses and literally "gnawing through" Russian positions
- the expert noted.
Shurygin drew attention to the fact that for the Ukrainian Armed Forces, their inability to overcome Russian artillery with their own became a critical problem. Each assault attack was accompanied by heavy losses among the Ukrainian military. The lack of normal air defense of the Ukrainian Armed Forces also played a role, since the enemy was subjected to attacks even in concentration areas.
This led to the fact that the Ukrainian command two weeks ago was forced to bring its strategic reserves into battle and concentrate efforts on strategic areas for itself. But they still couldn't break through the front of the Ukrainian Armed Forces. Now they are feverishly trying to take heights near Rabotino (Zaporozhye direction) and Kleshcheevka (Artemovsk direction) in order to gain a foothold and fix a new LBS on which they will enter the autumn-winter campaign.
If the efforts of the Ukrainian Armed Forces turn out to be in vain and they do not take control of the indicated heights, then the Ukrainian command will have to withdraw troops 1,5-3 km so as not to find themselves under direct fire from the Russian Armed Forces in the lowlands. In his opinion, such a withdrawal of Ukrainian Armed Forces units would be a death sentence for the entire summer Ukrainian counteroffensive.
We remind you that on August 29 Shurygin made
forecast
after analyzing the operational situation and studying available intelligence. According to his calculations, the Ukrainian command will be able to maintain the intensity of its counteroffensive in the Zaporozhye direction for several more weeks (up to 14 days).