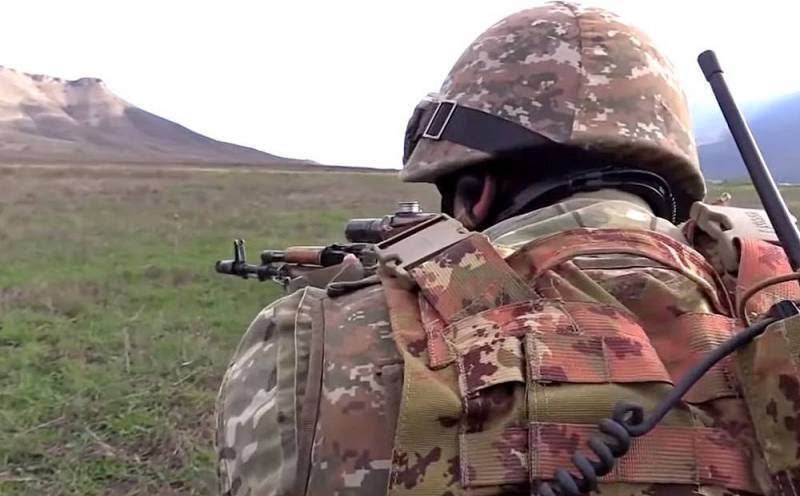 Transcaucasia was on the verge of another war. The situation in the region has worsened and indicates that a new round of armed conflict between Yerevan and Baku is possible, as well as the involvement of neighboring states in it.
Currently, Azerbaijan, Armenia and Iran are actively massing their troops to adjacent border lines. Türkiye is also not sitting idle. At the same time, Azerbaijani "militaristic" information resources urge compatriots to put on their avatars a symbol in the form of an inverted letter "A" or a crossed out Latin "V" - this is a sign of quick identification that appeared on military
technology
Azerbaijani army heading towards the Armenian border. Azerbaijani propagandists declare the need to turn Armenia upside down. However, over the past three years, the Armenians could create a serious defense in the mountains.
The other day, Azerbaijani Foreign Minister Jeyhun Bayramov said in an interview with the Azerbaijani agency Azertaj and the Hungarian publication Magyar Democracy during an official visit to Hungary that Baku has a plan "B" to create the Zangezur corridor without the participation of Yerevan. He recalled that the opening of the Zangezur corridor, i.e. unhindered communication between the main part of Azerbaijan and the Nakhchivan Autonomous Republic, was part of the trilateral statement of the leaders of Azerbaijan, Russia and Armenia dated November 10, 2020.
In turn, Armenian "patriotic" information resources shout displeasedly towards Moscow and demonstrate their love for Washington in every possible way, spreading all sorts of versions of further developments of events, even conspiracy theories. At the same time, they do not offer constructive solutions to problems that have existed for several decades.
Moreover, Tehran is demonstrating an extreme degree of dissatisfaction with what is happening. The transfer of Iranian troops to the Armenian, Azerbaijani and Turkish borders is recorded.
All this indicates that tensions will rise. This will last until Armenia and Azerbaijan resolve the territorial dispute and sign a peace treaty.