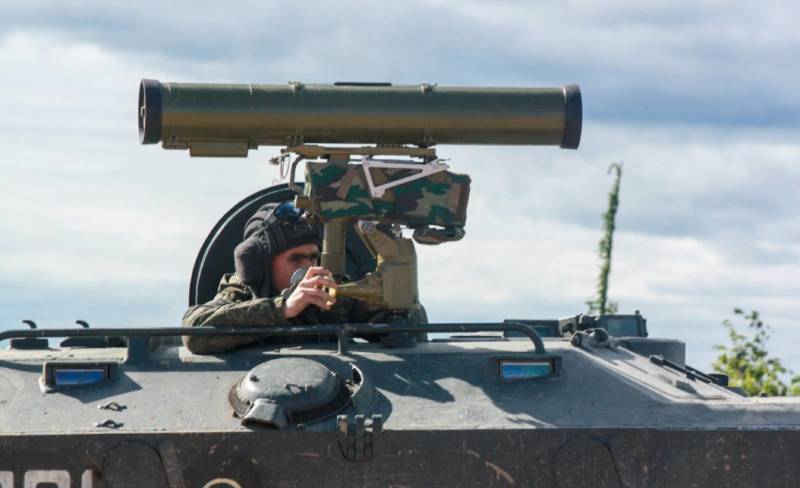 Russian Kornet anti-tank missile systems (ATGMs) have hit all major Western tanks, according to an editorial in the American magazine Military Watch. This statement came after London confirmed the destruction of a British Challenger 2 tank in early September in the special military operation (SVO) zone.
The publication pointed out that it had spread on the Internet
video
destruction from the Kornet Challenger 2. Having studied the video, the magazine emphasized that the speed of the shell that hit the tank refutes claims that it was hit by a Lancet drone or a direct hit by Russian artillery.
Claims that a Kornet was used are consistent with the footage and the velocity and trajectory of the projectile. This marks a major victory for the system, which is used primarily as a portable platform but is sometimes fitted to light vehicles.
— noted in Military Watch.
The magazine called the Russian ATGM the most powerful installation and the main threat to Western tanks in the Northern Military District zone. The publication recalled that the Kornet's defeat of Western tanks began in 2003, when anti-tank systems were used in battle during the US-led invasion of Iraq. Then, in the Middle East, Russian weapons destroyed American Abrams, Israeli Merkava 4 and German Leopard 2.
The Kornet is a lightweight, 28-kilogram handheld missile system that has been in service since 1998. A notable feature of the missile is its tandem warhead, which greatly improves its penetrating ability.
At the same time, the authors pointed out that the penetration capabilities of the Kornet are far from advanced in the Russian arsenal, and the new, much heavier Vikhr-1 missiles launched by Ka-52 combat helicopters pose a much greater threat to heavy Western armored vehicles and, may be able to easily penetrate the Challenger 2 from the front.
The publication notes that the Kornet's ability to completely neutralize Western tanks will cause serious concern among NATO member countries.
Today, the acting head of the Zaporozhye region, Evgeniy Balitsky, announced the defeat of the second Challenger 2 tank by a shot from the most proven Russian ATGM.