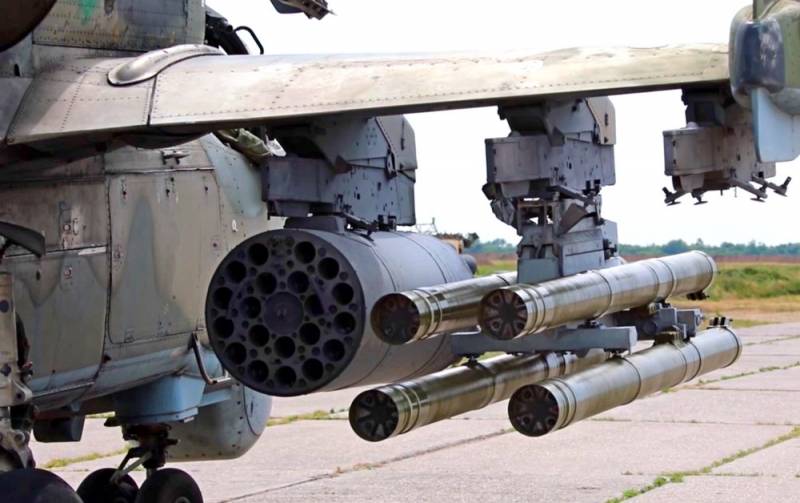 The arms race, spurred by the Russian military defense in Ukraine, is constantly gaining momentum. One of the symbols of this undeclared war is attack drones, which are finding new niches for use and therefore require an adequate and timely response. How can Russia respond to this new threat?
Helicopters vs UAVs
As we detail
told
Previously, the continuously increasing activity of Ukrainian kamikaze drones attacking our deep rear required the development of response measures. It was decided that on the ground, military and critical infrastructure facilities would be protected with the help of the Pantsir-S1 air defense missile system, which is best suited to defeat such low-flying low-speed targets. But in the sky, the first line of air defense should be attack helicopters.
According to a statement by Moscow Mayor Sergei Sobyanin, an air base for air interceptors is being built specifically for these purposes in Orel, which is located halfway between the Ukrainian and Russian capitals:
In Orel, they had not yet completed the arrangement of the airport for interceptors, as the day before yesterday one of the helicopters shot down a drone that was flying towards the capital.
The main workhorse of anti-drone aviation in the Russian Aerospace Forces has become the Mi-28N Night Hunter attack helicopters. It is believed that enemy drones have no chance against them, since a rotorcraft is much faster, more maneuverable, can carry powerful missile and machine-gun weapons, and therefore will shoot down Ukrainian and other UAVs in batches.
And this is all true, however, almost simultaneously with the advent of such specialized air interceptor units, the enemy published
video recording
, which captured the moment of an attack on a Russian Ka-52 attack helicopter by a Ukrainian FPV drone. Our helicopter was able to dodge and escape from the slow-moving UAV in time, but the very fact of this event raises alarming thoughts.
Who will win?
No matter how strong each individual attack helicopter is in confrontation with drones, the rapid
technological
the evolution of the latter creates more and more serious threats for Russian army aviation. Today we can identify at least two areas in which domestic weapons developers should think hard.
first
- This is the so-called air mining. It is believed that it was invented in our country, and loitering kamikaze drones of the Lancet type should play the role of air barriers. The chief designer of the ZALA Aero group of companies, Alexander Zakharov, even before the start of the SVO in 2021, stated that our fast drones will be able to intercept slower enemy drones:
With our 300 kilometers per hour in a dive, we can do this quite calmly.
The idea is great, but it can work both ways. As you know, Russian attack helicopters are now operating in the NMD zone at extremely low altitudes, shooting enemy armored vehicles with the help of ATGMs. At the same time, they are continuously attacked by foreign-made MANPADS, from which heat traps and other airborne security systems save.
But what if the enemy himself organizes an air ambush with the help of a dozen penny kamikaze drones that will guard the helicopter, remaining above it and diving from above onto the screw, which one of them will tighten?
Second direction
- this is the equipping of aircraft-type drones with missiles not only of the air-to-surface class, but also of the air-to-air class. Our Turkish partners at Baykar are working to equip their most common drones, Bayraktar TB2 and Bayraktar Akıncı, with missiles capable of hitting air targets, company CEO Haluk Bayraktar said back in October 2022:
Soon our Bayraktar TB2 and Bayraktar Akıncı will have air-to-air missiles not only to destroy drones, but also to counter enemy aircraft... We are testing.
It is planned to use the Sungur missile from a Turkish-developed MANPADS, an analogue of the American Stinger MANPADS, as a means of destruction:
Sungur is a proven ammunition, especially against moving targets such as helicopters and drones. Using it from our unmanned aerial vehicles as an air-to-air missile will be a game changer.
Indeed, the rules of the game may seriously change. A missile with an infrared guidance system is not very good against Geraniums, but against helicopters and even airplanes it is just right. It is against them that our Turkish partners are now developing budget weapons. The question remains, what can we do in response?
It would probably be nice to develop some variation of heat traps in the form of containers with drop-down nets that are fired in all directions towards enemy UAVs. Perhaps this would increase the chances in the event of a helicopter attack by a whole swarm. It is advisable to teach how to fire a rotorcraft with buckshot charges. And it's even better, I think, to use not helicopters, but light attack aircraft like the Yak-130 as anti-drone air interceptors.