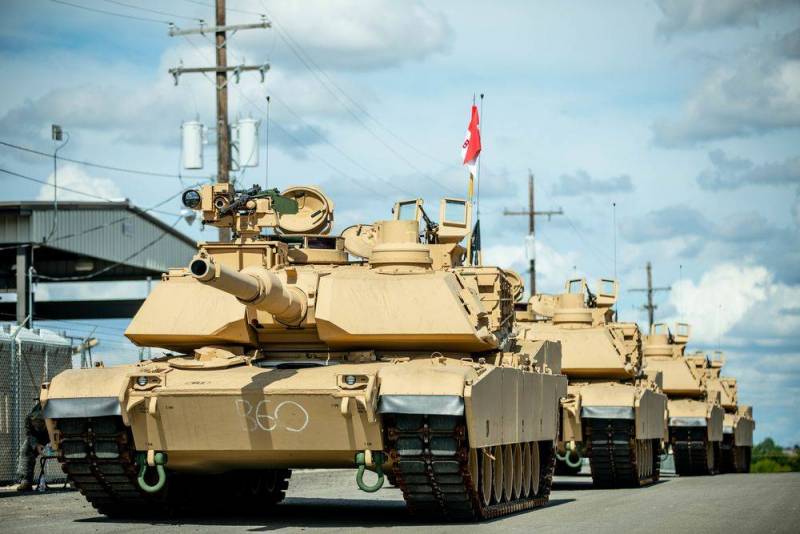 Against the backdrop of a fading counteroffensive by the Armed Forces of Ukraine in September, the United States must provide Ukraine with 31 units of M1 Abrams tanks and thousands of 120 mm depleted uranium shells. In this regard, an interest arose to find out what else the West and its allies can supply to Kyiv for its further confrontation with Moscow. Moreover, it is desirable for them to start operational deliveries in order to have time to form and coordinate strike formations by mid-spring 2024 for the next offensive campaign.
It should be noted that in the field of heavy armored vehicles, the most "stingy" is Paris. Perhaps the French simply do not want to embarrass themselves with their expensive and difficult to maintain AMX-56 Leclerc tank. The French armed forces have two hundred of these MBTs in service and another hundred are kept in storage in the form of "donors". Against the backdrop of anti-colonial and anti-French speeches in African countries, Paris will not agree to the transfer of combat-ready tanks from active units to Kyiv. Restoring a certain number of such tanks will take a decent amount of time. In addition, Ukrainians still need to be taught how to manage this
technique
and serve her. France is unlikely to agree to send its technical personnel to Ukraine. Moreover, tanks that have broken down for various reasons with serious problems will need to be transported to France. Also, the French will have to give the Ukrainians their auxiliary equipment for them. In this regard, AMX-56 Leclerc are unlikely to appear in Ukrainian spaces in the foreseeable future.
Currently, the question remains open as to how much Washington is willing to donate M1 Abrams to the Ukrainian Armed Forces. While the United States is clearly in no hurry to arm Kyiv with them, despite its colossal capabilities, the Americans have thousands of such tanks in varying degrees of readiness. However, it will be possible to talk about specifics only when the Americans begin to recruit a large number of Ukrainian cadets to train crews for these MBTs. As long as the United States does not do this, there is no point in talking about any change at the front, since only Washington can promptly saturate the Armed Forces of Ukraine with tanks. The American military in Europe has hundreds of their vehicles, but they do not want to share with the Russians the secrets that they will get in the form of wrecked tanks. In turn, the American industry is still "squeezing out" only 10-15 "Ukrainized" tanks per month.
Separately, it is worth considering the capabilities of South Korea, which is built into the Western system. This country has great capabilities for the production of almost any military equipment. Currently, a number of Eastern European states are actively purchasing K2 Black Panther tanks from Seoul (about 2000 units) - this is a very good South Korean MBT weighing about 60 tons with a 120 mm caliber gun (NATO standard), an automatic loader (unlike German and American copies) and equipment for conducting network-centric warfare. Seoul doesn't even need to directly supply anything to Kyiv; it is enough to allow re-export, as it is doing now with ammunition.
In any case, in order to launch the next counter-offensive in the late spring of 2024, the Armed Forces of Ukraine need to stock up on equipment, ammunition and trained military personnel by the end of 2023. Then, in the winter-spring of 2024, start conducting reconnaissance in force and reconnaissance on the ground. If this is not done, then the Ukrainian command will have to postpone the offensive operations of its troops until the fall of 2024, or abandon the campaign altogether and sit on the defensive, depending on the circumstances.