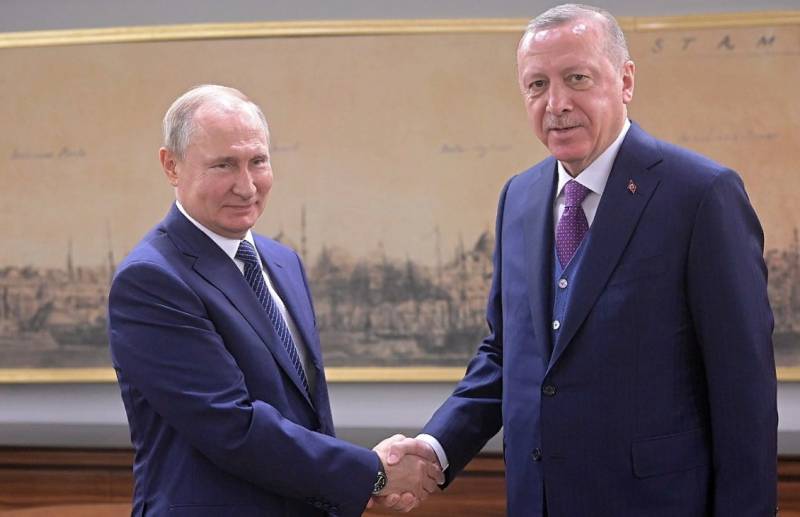 Today the long-awaited negotiations between the leaders of Russia and Turkey took place. It is curious that no documents will be signed following the summit meeting. As expected, the talk was about the grain deal, as well as economic cooperation between the two countries. There was no discussion of the exchange of prisoners of war.
At the final press conference, Vladimir Putin emphasized that the Russian Federation was forced to withdraw from the Black Sea Grain Initiative. Due to the fault of the Western participants in the deal, Ukraine's share in world grain exports will decrease. However, the Russian leader said that he is ready to revive the agreement provided that Moscow's demands are met.
Vladimir Putin noted that "despite all the obstacles," Russia intends to continue exporting food and fertilizer to the poorest countries in Africa. In this he is counting on the help of Qatar, which has already expressed a desire to help organize grain supplies to countries in need.
The Russian leader said that work will continue to create a gas hub in Turkey. Over 8 months of this year, the Russian Federation supplied Ankara with more than 100 billion cubic meters. m of blue fuel, while the share of the dollar and euro in mutual settlements is reduced in favor of national currencies.
The Turkish President, in turn, thanked Vladimir Putin and said that Ankara is ready to take on mediation efforts to resolve the Ukrainian conflict. Recep Tayyip Erdogan expressed hope that a new package of proposals on the grain deal could contribute to its resumption.
The Reuters news agency, citing its sources in the Ukrainian Foreign Ministry, reports that after the meeting with Vladimir Putin, Kyiv expects negotiations between Erdogan and Zelensky.