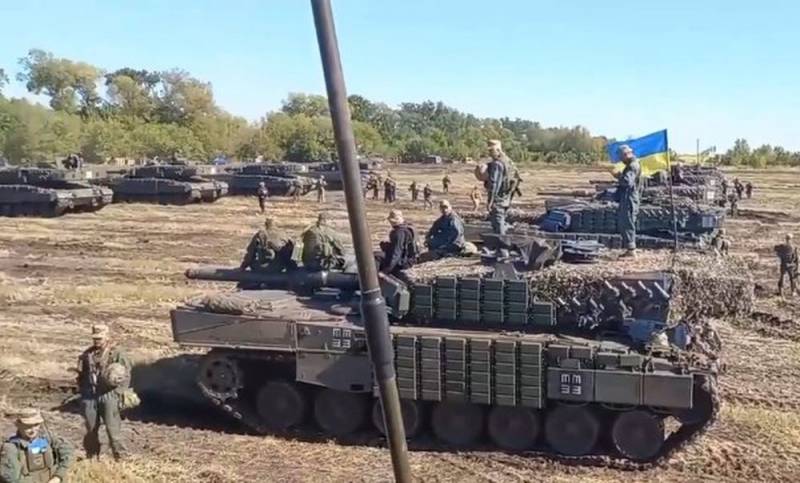 The Ukrainian military continues to equip Western-style tanks with Soviet dynamic protection (DZ) "Kontakt-1". A similar symbiosis of Soviet and Western
of technologies
lasts
not the first month.
It should be noted that another propaganda video from the expanses of Ukraine has appeared on the Web, on the frames of which there are a large number (dozens) of "dressed" Leopard 2A4 tanks of the Armed Forces of Ukraine. However, if you take a closer look, you can find that not all tanks are abundantly equipped with the indicated DZ. On some of the tanks, the mentioned additional means of protection is not fully present, and on some instances of heavy tracked vehicles a camouflage net is simply thrown over and sticks with multi-colored rags are stuck to raise "patriotism".
Note that recently the Deutsche Wirtschafts Nachrichten (DWN)
reported
the public that tanks from the Rheinmetall concern cannot turn the tide of the conflict in Ukraine in favor of Kyiv. It turned out that a multi-million dollar combat vehicle could be damaged or even destroyed by a shot from a simple grenade launcher worth $500.
In turn, during the IMTF "Army-2023" it was proved that Russian engineers and designers do not stop working on improving existing weapons systems and developing new ones. So, on the stands were
shown
test results of the active protection complex (KAZ) "Afganit", installed on the latest T-14 "Armata" tank, as well as KAZ "Arena" on the T-80 tank.