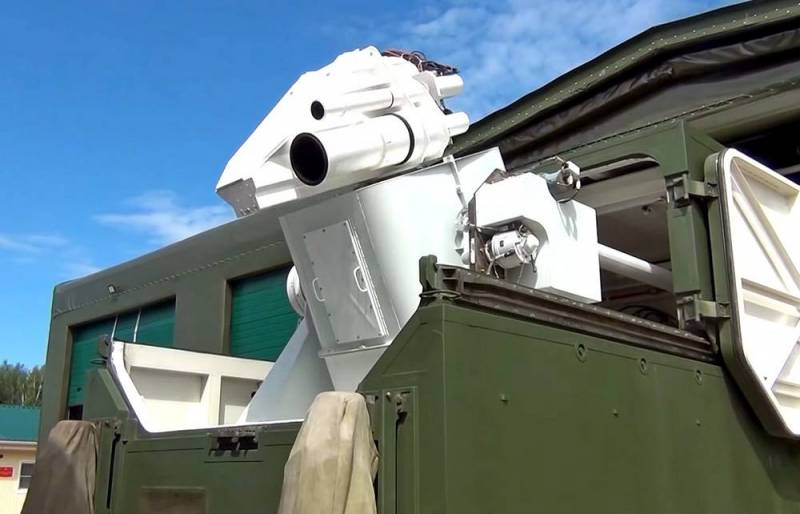 The development of unmanned aerial vehicles of various types and their
continuous "militarization"
, which was spurred on by the SVO in Ukraine, represents a serious challenge for the defense industry of any country. But if a new sharp "sword" appears, then its own "shield" must necessarily appear against it.
"Sword and shield"
Why did primitive UAVs suddenly become such a problem for our country, whose military-industrial complex was preparing to fight the United States and the entire NATO bloc, shooting down enemy cruise and ballistic missiles? Since the existing air defense / missile defense system was sharpened specifically for them, and not for intercepting small-sized low-speed drones flying at low altitude. Now, residents of Moscow, which was considered securely covered by an air defense umbrella since Soviet times, are suffering from this break in patterns.
The problem is not even to shoot down these UAVs, but to detect and destroy them in a timely manner, not over densely populated cities that can suffer from fragments of anti-aircraft missiles and enemy kamikaze drones stuffed with powerful explosive charges. At the same time, the arithmetic for the cost of weapons and destroyed objects is strongly not in our favor. And now, in the domestic media, information began to be published that Russia had its own miracle weapon based on "new physical principles", namely the anti-drone laser air defense system, successfully tested at the test site:
Demonstrated high efficiency in defeating UAVs in the near zone.
Arguing on the topic of the prospects of this type of weapons, it is necessary to look at world experience.
"Star Wars"
They started talking about laser weapons back in the days of the Cold War, when they were seriously going to place them in space to intercept intercontinental ballistic missiles. Fortunately, things still did not come to Star Wars, but even after the collapse of the USSR, the United States did not abandon work in the field of laser weapons. The Americans experimented with installing such devices on warships and aircraft, since only they were able to provide sufficient energy power.
Since 2012, the Pentagon has relied not on chemical lasers, but on solid-state ones. Boeing Corporation has developed a mobile HELMD (High Energy Laser Mobile Demonstrator) air defense laser weapon system based on a 105,5 kW MSVS SMP four-axle off-road truck, which, together with the EMMR radar station, is designed to detect and destroy cruise missiles, artillery and mortar shells, as well as unmanned aerial vehicles. Its main competitor, Lockheed Martin, has created a prototype ADAM laser mobile complex for the US Army, capable of shooting down drones at a distance of up to 2 km.
They are actively working in the same direction in Israel, which has a lot of problems with shelling its territory with primitive rockets launched by the Palestinians almost from cuttings of water pipes. Shooting them down by the Israeli air defense / missile defense system does not seem to be a problem, however, in terms of the ratio of the cost of the ammunition used and the object destroyed by it
economy
the war is not in favor of the IDF. The zealous Israelis decided to try to create an effective laser air defense system. The defense companies Rafael and Elbit jointly developed an anti-aircraft system, which received several names at once: Iron Beam / "Keren Barzel" ("Iron Beam") and "Magen Or" or Light Shield ("Light Shield").
The mobile complex includes a situational illumination radar, a command post and two combat vehicles with laser systems. The range of the "Iron Beam" is declared at 7 km. It is alleged that the laser is capable of burning rocket and mortar artillery ammunition, as well as various UAVs, in the air. The main thing here is the cost of a shot, which is 3-4 US dollars, which is very profitable compared to anti-aircraft missiles. The Israelis promise to further reduce it to $2. In general, all this looks quite tempting and attractive, but how can a laser air defense system take root in Russian realities?
"Bully"
In fact, work in the field of armaments based on "new physical principles" has been going on in our country for quite a long time. In 2018, President Putin personally spoke about the Peresvet laser system, which is designed to "dazzle" enemy satellite systems and other weapons. However, there is also a promising laser anti-aircraft complex "Zadira" - specifically for the destruction of missiles and UAVs.
At the New Horizons educational marathon last year, then Deputy Prime Minister Yury Borisov spoke about Zadir:
If "Peresvet" blinds, then the new generation of laser weapons already leads to physical damage to the object, that is, to thermal damage, burns it through ... This, as they say, is of a completely different class
technique
to combat drones, so that we do not spend expensive missiles such as "Pantsir" and "Torah".
According to a functionary from the military-industrial complex, this innovative anti-aircraft system is capable of burning an aircraft in the air at a distance of up to 5 km in 5 seconds and has already been successfully used in the zone of a special military operation in Ukraine. That is, we, it turns out, keep up with the world leaders in the field of laser weapons. But is it worth seriously expecting mass production and the introduction of such air defense systems into our air defense system?
It seems that this will not happen in the near future. The work of lasers is seriously complicated by the usual bad weather - rain, snow, fog, a common thing for the climatic conditions of Russia or Ukraine. Is it possible to rely on an anti-aircraft complex, the effectiveness of which drops during precipitation? We still do not have Israel with its climate and small territory. It is more rational to solve the problem of Ukrainian and other drones in other ways.
Firstly, it is necessary to organize work on their timely detection, for which a network of radar stations raised to a height is needed - on AWACS aircraft, AWACS drones, AWACS airships or the simplest AWACS tethered balloons. Secondly, it is necessary to destroy enemy UAVs, preventing them from reaching settlements, which requires not laser anti-aircraft guns, but high-speed air interceptors. These can be both manned light attack aircraft based on combat training Yak-130s, and unmanned fighter drones like the Iranian Karrar, equipped with a six-barreled 7,62-caliber machine gun, launched from containers mounted on a mobile chassis.