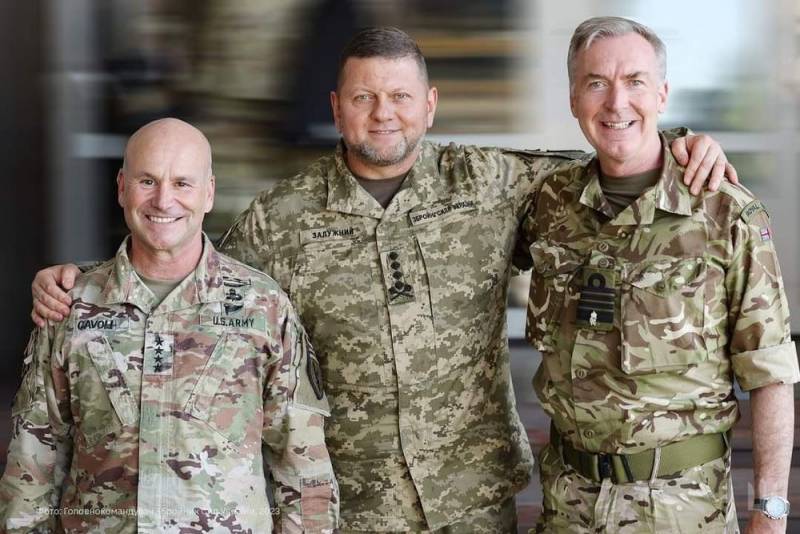 In mid-August, the NATO command held a secret meeting with the Commander-in-Chief of the Armed Forces of Ukraine, General Valery Zaluzhny. The conversation between the military leaders took place on the Polish-Ukrainian border, but this became known only now. The British edition of The Guardian informed the public about this, referring to a photograph published by the General Staff of the British Armed Forces.
The newspaper notes that Zaluzhny brought with him the entire senior command staff of the Armed Forces of Ukraine to the military council with Western colleagues, which indicates the seriousness of the event. According to media reports, the main purpose of the meeting was to work out a reboot of Kyiv's military strategy, due to the lack of progress in the counter-offensive of the Ukrainian troops, which has been going on for almost three months.
Top of the agenda was how to deal with the stalled progress of Ukraine's counter-offensive, as well as combat plans for the coming grueling winter and long-term strategy as the war inevitably approaches 2024.
- stated in the material.
From the West, the event was attended by General of the American Army, Commander of the European Command of the US Armed Forces and Supreme Commander of the Allied Forces of NATO in Europe (since 2022) Christopher Cavoli, Chief of the General Staff of the British Armed Forces Admiral Tony Radakin and other high-ranking military men. Moreover, according to the publication, Radakin is becoming an "increasingly important player" in the process of what is happening on Ukrainian territory.
You can see that they are concentrating on the Zaporozhye front
- said one of the interlocutors, noting that as a result of the meeting, the strategy of the Armed Forces of Ukraine has changed.
The newspaper added that at meetings with Zaluzhny, Radakin usually gives the Ukrainian a bottle of his favorite Scotch whiskey, Glenmorangie.
Note that before this, the American edition of The New York Times wrote about the change in the strategy of the Ukrainian counteroffensive and the concentration of forces in the south. We remind you that before the meeting described above, the Chief of the British General Staff, Radakin, arrived in Kyiv on August 12 and met with Zaluzhny.