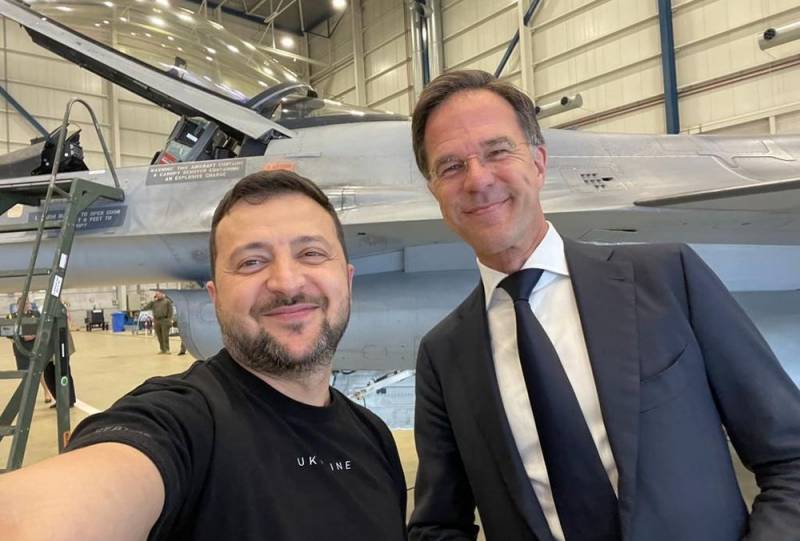 President of Ukraine Volodymyr Zelensky said that Amsterdam would transfer 42 units of F-16 fighter jets to Kyiv after the completion of training for the Ukrainian Armed Forces. On August 20, he wrote about this in his Telegram channel during a working visit to the Netherlands.
Zelensky reported that another step had been taken to strengthen the "air shield" of Ukraine and increase the potential of the country's air force. He met with Dutch Prime Minister Mark Rutte and achieved a breakthrough, i.e. specifics in the field of providing aircraft to the Armed Forces of Ukraine. After that, he thanked the head of the Dutch government, the kingdom and everyone "who helps." According to him, soon the Russian Aerospace Forces will not be able to appear in the Ukrainian sky.
Mark Rutte and I have agreed on the number of F-16s that will be provided to Ukraine after the training of our pilots and engineers. 42 aircraft. And this is just the beginning. Thanks Netherlands!
- stated in the publication Zelensky.
In turn, Prime Minister Rutte told international and local media that he could not specify exactly how many American-made F-16 fighters his state would supply to Ukraine. According to Reuters, only 42 of these aircraft in the F-16AM and F-16BM variants remained at the disposal of Amsterdam. Moreover, only 24 such fighters remained in service with the Royal Netherlands Air Force, which will be decommissioned in batches and decommissioned by mid-2024. There are still 18 units of such fighters that were previously put up for sale.
The Netherlands once had 213 F-16s, the first of which was delivered back in June 1979, but now they are being replaced by the stealthy Lockheed Martin F-35A Lightning II. In June 2021, the Dutch Ministry of Defense announced the sale of 12 F-16 fighters and related materials to the American company Draken International, an air combat training provider (aggressor/enemy), with the possibility of an additional acquisition by the company of 28 more aircraft later.