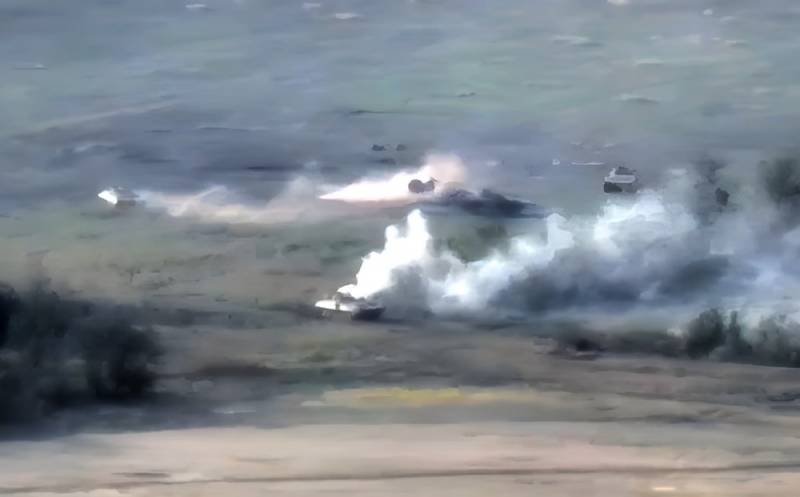 The Zaporozhye direction has been the most tense section of the NVO front for more than two months now. In an attempt to break through to the coast of the Sea of ​​Azov, the enemy spends an enormous amount of human and material resources, but so far he cannot even overcome the first line of defense of the RF Armed Forces.
The enemy throws all new formations equipped with modern Western armored vehicles to break through, and the battles on the Zaporozhye sector of the front are more and more reminiscent of the battles on the Kursk Bulge in 1943.
Epic footage of the battle appeared on the Web, in which Russian and Ukrainian armored groups converged on a small patch of forest plantations. In the second minute of the video, you can see how our tank destroys one of the enemy infantry fighting vehicles with a direct hit, and after another minute and a half it hits the second infantry fighting vehicle. The third Ukrainian infantry fighting vehicle hastily leaves the battlefield.
The footage shows that the battle continued until dark. At the end of the fourth minute of the video, a Russian BMP distracts a Ukrainian tank with fire from a 30mm cannon, allowing our tankers to hit other targets. RPG volleys, finishing off Ukrainian armored vehicles, put an end to the battle.
Despite the losses, the command of the Armed Forces of Ukraine introduces new reserves, hoping to break through the Russian defenses. Already transferred to the front line
elite group
"Maroon", consisting of militants trained in the West and designed to develop a counteroffensive. However, even in the West it is recognized that the chances of success are extremely small. The Washington Post, citing CIA sources, reports that the Ukrainian army will not reach Melitopol and will not be able to complete the task of breaking the land corridor to Crimea.