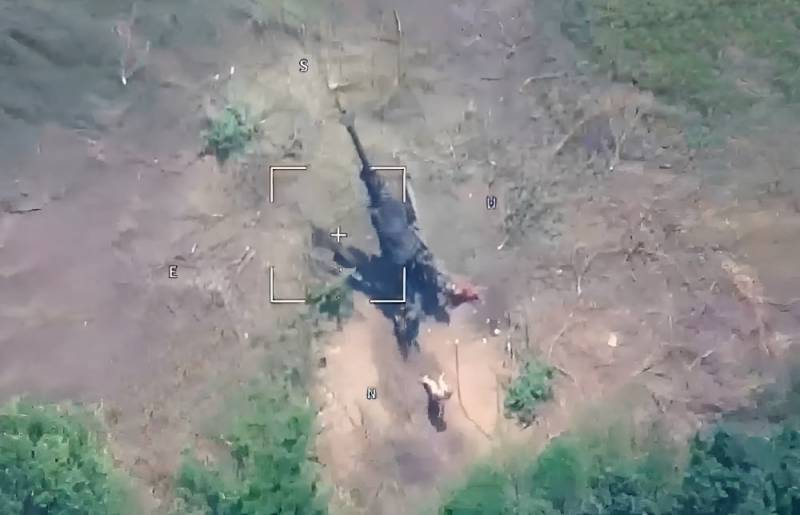 Another fact of the destruction of the American M777 artillery system by the Russian military was recorded in the zone of the special military operation. A video of the howitzer's defeat appeared on the Web.
The footage of objective control clearly shows the American howitzer M777 disguised in the forest belt. In all likelihood, the gun ran out of ammunition and the crew was waiting for the delivery of shells.
But it was this operation that turned out to be fatal for the gunners of the Armed Forces of Ukraine. The support vehicle was spotted from the air by a Russian reconnaissance drone. After that, the coordinates of the location of the American howitzer were transferred to the operators of the Lancet UAV.
Russian loitering ammunition does not need to be given two commands to destroy such a fat target as "three axes". The howitzer was easily detected and hit along with the ammunition load.
It should be noted that the United States some time ago handed over several dozen units of M777 howitzers to the Ukrainian army. Initially, they caused big problems for Russian fighters. Recently, however, the Russian army has learned to effectively deal with this system.
"Three axes" are amazed not only by the "Lancets", whose hunting instinct is appreciated even by the enemy, but also by the usual means of counter-battery combat. According to various estimates, Russian fighters have already halved the M777 stocks in the ranks of the Armed Forces of Ukraine. And every day there are fewer and fewer of these howitzers.