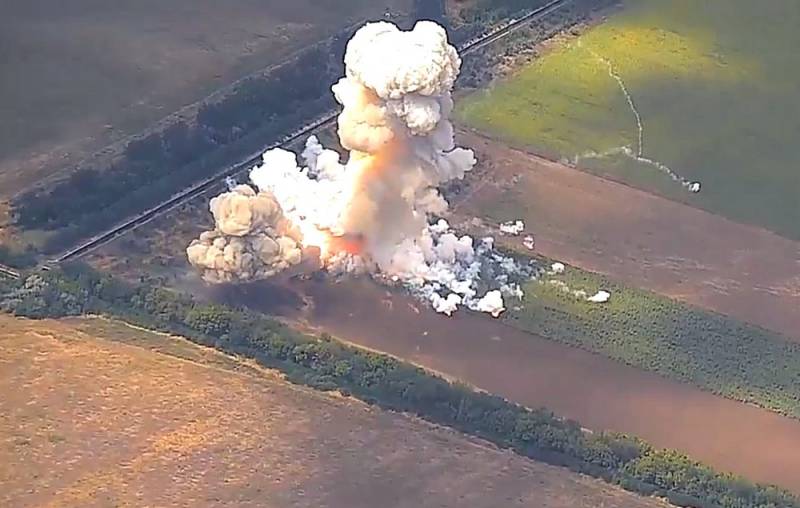 Footage of the destruction of the S-300PS air defense system of the Armed Forces of Ukraine in the Nikolaev region appeared on the Web. The corresponding video is an addition to the operational report of the Ministry of Defense of the Russian Federation dated August 14 on the course of the NMD for the previous day.
The report indicates that the defeat of the air defense system occurred on August 13 near the village of Zeleny Gay. Thus, an entire air defense area, the foundation of which was this battery, was put out of action.
These shots have become another evidence of the introduction of long-standing developments of the military-industrial complex into the Russian troops. The blow to the enemy was delivered from the MLRS 9K515 "Tornado-S", deeply modernized back in 2012 9K58 "Smerch", using guided projectiles of 300 mm caliber. We are talking about 9M542 corrected ammunition with a detachable high-explosive fragmentation or cluster warhead with a firing range of up to 120 km.
According to the conclusion of IISS experts, published in the MilitaryBalance reference book in 2017, Tornado-C outperforms NATO MLRS in terms of range, in particular the US-made M142 HIMARS 227 mm caliber, with the ability to increase the range up to 200 km. In addition, Tornado-S rockets are more powerful than HIMARS (not to be confused with rockets for these launchers).
The mass appearance of "Tornado-S" in a similar configuration in the zone of the NWO will eliminate the threat posed by HIMARS and its analogues. That is why Kyiv's Western partners have begun to transfer to it Shadow/SCALP-EG air-launched cruise missiles with a range of up to 290 km and are considering the possibility of supplying even longer-range TAURUS (over 500 km). This indicates that the victory of the Russian army is forged in the rear and depends on the work of the defense industry.