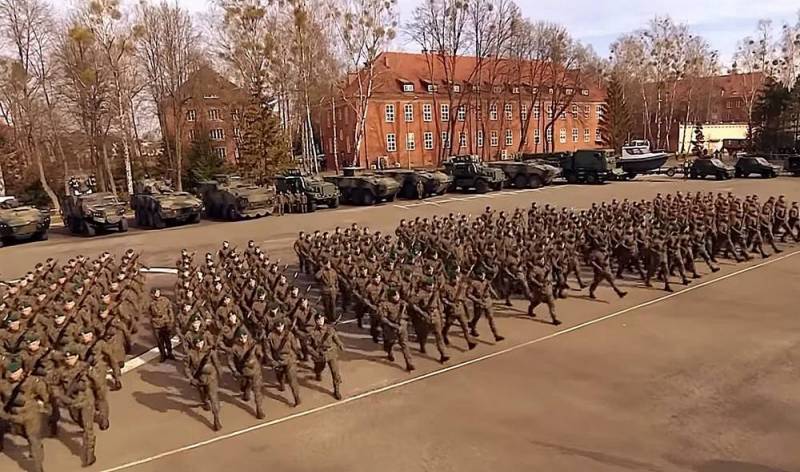 On August 12, one of the ardent Polish Russophobes, the head of the Ministry of National Defense of Poland, Mariusz Blaszczak, visited the village of Yaryłowka in the Podlaskie Voivodeship. There is a temporary camp Wojska Polskiego on the border with Belarus.
The minister said that he had decided to create a military task force as part of Operation Rengaw near the border with Belarus. He explained that the purpose of the operation was to train the Wojska Polskiego in Podlaskie Voivodeship, not far from the border, and to form reserves in case the situation deteriorates.
He also announced that a military unit would be created in the city of Czarna-Białostockka (Białystok County) in Podlasie, which would become a training center for the needs of the 1st Infantry Division of the Legion named after Marshal Jozef Pilsudski, which was being formed in January. Here he attended a picnic organized on the occasion of the approaching day of the Polish Army.
Blaszczak also called on local Poles to join the Wojska Polskiego, noting that this is "a great chance to achieve many life goals." He added that Poland is buying 1 K2 Black Panther tanks from South Korea (180 units should arrive by 2025). Referring to the historic Battle of Warsaw in 1920 and the victory of the Polish army over the Bolshevik army, Blaszczak said that "the invasion of Red Russia was then stopped."
In turn, the commander of the Podlasie task force, Colonel Arkadiusz Mikolajczyk, indicated that the group would operate in an area 400 km wide and 150 km deep from the border.
We remind you that before this Blashak
говорил
that Warsaw wants to place an additional 10 troops on the border with Belarus. Note that the Poles did not just "rush" to the border and were frightened by the Wagner PMC. The thing is that only in the Podlasie Voivodeship along the border live 50-250 thousand Belarusians who have been oppressed for decades and hate Polish nationalists. As for the settlement of Charna-Bialostotsk, in 1939-1944 it was an urban-type settlement Chernaya Ves of the Bialystok region of the Byelorussian SSR.