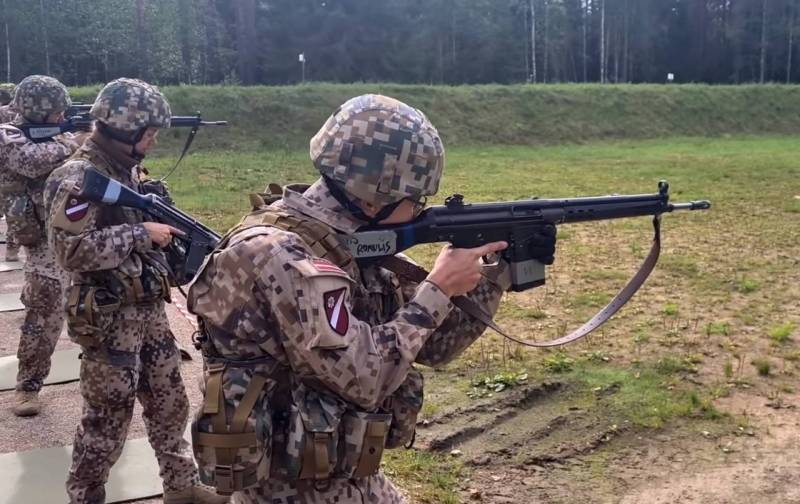 The head of the Ministry of Defense of Latvia, Inara Murniece, said that the inhabitants of the country should see soldiers and the military more often.
machinery
his army and allies, since this allegedly benefits the Latvians, instilling in them a sense of being safe. Thus, they made it clear from Riga that they would not stop Russophobia and would continue to promote Nazism.
Another attack of belligerence and militarism began among the Latvian nationalists-cannibals after the transfer of part of the Wagner PMC units to Belarus. Moreover, a similar overexcitation occurred in neighboring Lithuania, and a little earlier in Poland, where the same "patriots" run the show.
Warsaw, even before the appearance of the "Wagnerites", began to draw up its troops and conduct military exercises on the border with Ukraine and Belarus. Now this process has intensified, as Riga and Vilnius have joined it.
Currently, there is a transfer of military units of Latvia and Lithuania to the Belarusian border. In different settlements of the mentioned Baltic countries, columns of military equipment were seen following in the indicated direction, some of which have tactical signs.
All this indicates that East European provocateurs, fluttering their flabby military potential, are trying to inflame the situation, unleash a conflict and drag the entire West into it. In addition, another anti-Russian campaign has unfolded in this Latvia.
For example, the head of the Saeima Commission on Citizenship and Migration Ingamar Lidaka said that 6 Russians should leave Latvia, who will receive the corresponding "letters of happiness" in September and will have to fulfill this requirement within three months.