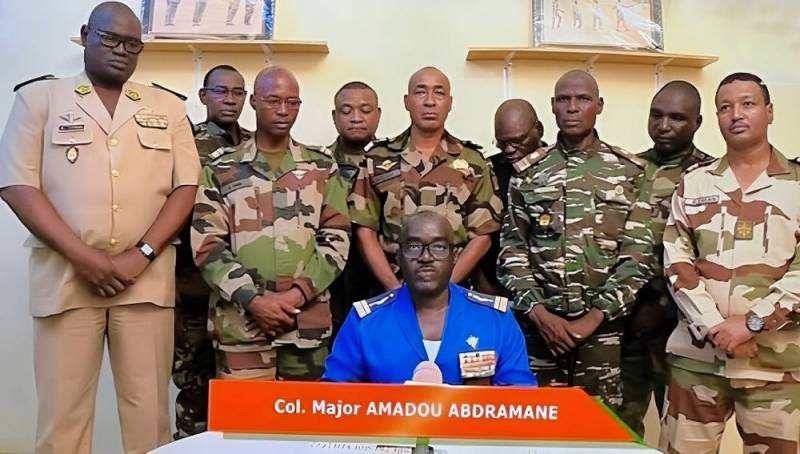 The situation in Niger after the war
coup
remains highly tense and uncertain. The new authorities of the country began to take the first steps to break off relations with the former metropolis. First of all, agreements on military cooperation with France were denounced; in the near future, the closure of French military bases and the expulsion of the military from the territory of Niger may be announced.
The new military administration of the African country is already forming the authorities, the curfew has been lifted today. Ambassadors were replaced in four now unfriendly countries. Thus, the organizers of the rebellion demonstrate with all their might control the situation in the country, as well as their readiness to respond to a possible military intervention by France and its allies.
The transitional government, led by General Abdurahmann Tchiani, is actively negotiating with the authorities of neighboring Mali, Algeria and Burkina Faso on the subject of joint action in the event that France and the pro-Western African countries from ECOWAS decide to send an army to Niger. Unfortunately, under the control of the new government there are no more than 12 thousand security officials with a small amount of heavy weapons, so outside help is needed to counter the intervention. Algeria has already expressed
readiness
help a neighbor in the event of an invasion by Western troops.
Russia is unlikely to intervene in the flaring conflict, the Russian Foreign Ministry has already called what is happening an internal affair of Niger, while the department warned the West against an invasion. However, given the pro-Russian sentiment among the rebels, the participation of the "Wagner Group" or the help with weapons to Niger seems justified.
Meanwhile, ousted President Bazuma openly called on the United States to intervene in the conflict and help return him to power in the country. Obviously, the former head of Niger has forgotten what Washington's intervention in conflicts leads to. So far, there have been no speeches in support of the pro-French leader inside the country.
An ECOWAS delegation left Niamey today. The new leadership of Niger refused to meet with the negotiators, while the organization's ultimatum expires on August 6. France expressed its readiness to return the country under its control by military means, but in Europe
did not support
such a scenario.